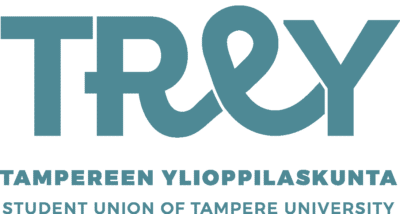 Welcome to TREY and Tamko's well-being week 7-11 November 2022! During the well-being week, from Monday to Friday, all campuses have a lot of different programs to support the well-being of students!
This year, the theme of the event is "together as a community", and part of the idea of the event week is to offer opportunities to make new acquaintances. So feel free to join the events and find new friends while having fun! This year there are 33 events in five days!
Monday 7.11. at 10-14 is a well-being fair in kampusareena on the Hervanta campus, where various well-being-focused actors and organizations will be present, providing information to support one's own well-being during studies, after studies and in working life.
 
This year, wonderful overall brands have been acquired for the wellness week, which are distributed only to the fastest! To get an overall badge, you just need to participate in at least one wellness week event and show photo proof of this at Tamko Solu or TREY service points in Hervanta or city centre campus. A handful of the Fastest will receive an overall badge directly from the wellness fair.
For participating in the Well-being Week event, you will also get a stamp on the Tursaspassi, and teekari fuksis will fuksi points depending on how many events they participate in. Wellness week stamp sheets will be distributed at TREY's  Hervanta service point starting November 1. Students from other fields should also check the possible freshman passports, if they could get points for the well-being week! 
Let's have fun and keep the event harassment-free. If you encounter unpleasant behaviour or harassment, you can contact TREY's harassment contact persons through hairinta@trey.fi, or individually hairintamies@trey.fi (male) and hairintan-ainen@trey.fi (female). You can also use this form to anonymously report unpleasant behaviour or harassment: https://forms.office.com/r/M8bCEPwswc 
Community tree
Whole week
TAMK main campus, Kuntokatu lobby
Tamko
Find new friends! Come and write your contact info on the community tree´s leaf and snap a photo of possible new friends contact info. You can also leave an encouraging message for other students. The community tree is at TAMK´s entrance on Kuntokatu side for the whole wellness week.
Wellness fair
10-14
Hervanta campus, Kampusareena 1st floor lobby
TREY & Tamko
Welcome to TREY and Tamko's wellness fair! Organizations that are focused on wellness are represented in the fair. You can get information on how to support your wellness during and after your studies. I You can get to know e.g. the activities of YTHS, SportUni, Nyyti ry, red cross and osviitta! At the fair, at the TREY and Tamko stand,  wellness week overall badges will be distributed to the first hundred participants of the fair!
Reading Corner
12-14
Hervannan kampus, PC112
Bioner
Do you feel like you have less
time to read a good book than a couple years back? So do we. In the Reading Corner, you can read a book of your choice and relax for a few hours while sitting in a bean bag. Coffee and tea are served, too. Arrive and stay according to your own schedule. During the first and last 10 minutes of the event we take an introduction round so you can tell about your book to the other participants if you want. You can also do some other quiet things, like knitting, but please leave your course books outside of the reading room!
Wellness moviE night
14-19
Hervanta campus, kampusraeena auditorium
Elram
Kaipaatko hengähdyshetkeä arjen keskelle? Haluatko vaihtelua opiskeluun? Ovatko piirretyt mielestäsi parhaita? Mikäli vastasit kyllä, tämä on sinulle!
Hyvinvointiviikon ensimmäisenä päivänä maanantaina 7.11. järjestetään perinteinen hyvinvointilEffailta! Tule yksin tai yhdessä Kampusareenan auditorioon juuri haluamaasi aikaan ja juuri siksi aikaa kuin haluat. Katsomme putkeen Madagascarit 1-3, aloittaen klo 14.
Tämän elokuvateatteritasoisen kokemuksen kruunaavat tietenkin TEKin tarjoamat leffaeväät!
Mitä? Leffoja ja leffaeväitä
Missä? Kampusareenan auditorio (A223)
Milloin? 7.11. klo 14-19
Mitä maksaa? Ei yhtään mitään!
Miksi? Hyvinvoinnista huolehtiminen on tärkeää
Cookies and Confessions
18->
Hervanta campus, Language Center Kitchen
TaSciEn
💌 TaSciEn Cookies and Confessions event 💌
📫 Do you feel like you need to share something but you are hesitant to tell others about it?
🍪 Maybe there is a lack of cookies in your life lately?
🧘 Or if that's not the case, what if we told you that you can come to meditate in a good company and finally feel relaxed for a moment in this flow of studies and autumn sadness? 🌝
Well, TaSciEn has all three to offer! As a part of Wellness Week, on 7.11 at Language Center at 18:00, you will have a chance to express your worries anonymously on a whiteboard, bake and taste some cookies, and even join a short meditation session held by our yoga master ✨ Mila ✨
Come and see if you feel like sharing some deep/funny/personal/weird thoughts, write them on a whiteboard (we made it so that everyone is guaranteed to stay incognito 😎), participate in baking cookies and take a moment to meditate in the end 💫
We hope to have a cozy and supportive atmosphere at the event, so any harassment is unacceptable. If you face it, please contact TREY's harassment people at harassment@trey.fi.
TL;DR
WHAT? Cookies and Confessions
WHERE? Language Center
WHEN? 7.11 at 18:00
WHY? Confessions, Cookies and Yoga!
Walking in the woods
18-20
Start at Tamko's office, kuntokatu 3, L-building
Tampereen orastavat lihakset urheiluseura ry
The days are getting colder and darker it might be difficult to go for a evening walk. What could be better than meeting new people and walking around a forest. For some it could be a little difficult to start a small talk but with Tolu you don't have to be shy! We can talk about anything in between of the earth and sky. I mean we can also talk about the cosmos too. 🤪
Swap
11-18
Tampere University City Centre Campus Cafe
ESN Fint
Swap is a fun and sustainable event where participants exchange the clothes they no longer use for something they will use in the future! You can also bring some other things that might be taken by others. Just make sure the thing or cloth you bring is in good condition and still can be in use.
Rules: You bring one thing and we give you a voucher that you can use to exchange it for something you like. If you do not have anything to bring, you will still get a voucher to participate.
TTO Day Sauna
11-14
Rauhaniemi Folk Spa, Rauhaniementie 24
Tampereen Tradenomiopiskelijat ry
Is there a better way to start of our Tuesday day than going to sauna!
TTO is taking part in the traditional wellness week
organized by TREY and Tamko by organizing a free day sauna to all members of the University community of Tampere.
The event will be held 8.11 starting at 11 and ending at 14 at the Rauhaniemen kansankylpylä.
Should I donate?
11-14
Hervanta campus, main building, upper lobby
Tampereen Rakentajakilta ry / TARAKI
Information about blood donation and stem cell registry, and blood donation -themed quiz at a stand.
Bingowalk
13-15
Tamko office, Kuntokatu 3, L-building
Tamko
BINGO! Come along for peaceful walk around the Kauppi alone or together to watch the scenery and pick up on bingo objects. We have two starts on Tuesday 8.11. at 13 and 14 o´clock. The walk starts from Tamko's office and takes about an hour.
Tahra Playhour
15-18
Hervanta campus, Language Center Kitchen
Taide- ja tekstiilikerho TAHRA
It is time to let your inner child be free again! Shake off your stress and worries and come with us to finger-paint and to color. No need to worry about inspiration or the results, there will be a communal artwork available both in finger-paints and by coloring with pencils or crayons. You can also paint your own artwork or do some coloring pictures with crayons or coloring pencils. Or if 3D-art is your thing, we have some play-dough as well! Everyone is welcome to join!
Sekava Queer cursing night
17-19
Artteli, meeting room, Mustalahdenkatu 22
Sekava ry
Do you feel annoyed by the heteronormativity of our society or does all the inequality cause you distress? Maybe you feel anxious about the current state of the world? In this case, worry not! Sekava's own cursing night is right around the corner. We will be blowing off some steam on Tuesday, 17th of April starting at 5pm at Kumppanuustalo Artteli. We will offer some snacks and possibly coffee and tea. Welcome!
Gingerbread decorating
17-20
Tamko office, Kuntokatu 3, L-building
Tamko
Come along to take a head start to christmas and decorate gingerbreadcookies alone or together at Tamko´s office Solu on Tuesday 8.11. at 17–20 o´clock. Tamko offers the cookies and decorations for participants.
Mocktail workshop
17-20
TAMK main campus, Catering Studio
PIRATE ry and TARE
PIRATE ry and TARE ry are hosting a Mocktail Workshop on 8.11. from 17-20. During the workshop you get to bring your inner drink master to life! Come alone or with friends to test how preparing delicious Mocktails goes!
Step to the TAMK Catering studio as a beveragenoob and leave as royalty of juice disco!✨
The event costs 2,5€. Sign up on Kide.app.
Antura sowing club
17-21
TAMK main campus (location will be updated)
Antura
Are your student overalls still waiting for the badges to be sewn? Are you not feeling like sewing them alone? Antura is inviting all students to hang out and sew badges together at TAMK main campus!
Tatsi acrobatics training
18-19
Hervanta campus, Bommari, tatami
TaTSi
In this available for all training session you get to practise partner acrobatics/pyramids. You can come on your own or together with a buddy.
Playing videogames in lategame
17-21
Bar & Cafe Lategame, Kuninkaankatu 19
SYNTAKSI ry
Playing videogames/LAN partying with other people at Bar & Cafe Lategame. Consoles, board games and dance games are free, PC playtime 1€/h.
Morning run
7.30
Hervanta campus, front lawn
TurVoKe ry
TurVoKe ry organises a morning run during the wellness week, on wednesday 9.11. at 7:30! The run will start at Hervanta campus' front lawn, and the guild/association with the most participants in the run will win a free sauna for their members!
Dough therapy
12-15
Hervanta campus, TamArk Guild kitchen
TamArk
Does studying feel stressful? You are welcome to unwind your mind in TamArk's dough therapy
TLDR;
WHAT? Free buns!!!
WHERE? Tamark's guildroom
WHEN? 9th of November 12-15pm
12pm – 3pm
WHY? bc it's fun!
Food, drink, curling and cuddling
12-15
Hervanta campus, Language Center Kitchen
NMKSV
The sporrrts team NMKSV organizes the softest event of the wellness week, when on Wednesday afternoon the kitchen of the language center turns into a large lounge area and the curling videos are played! In connection with the event, there is also the opportunity to play kurling with a good group! The event is completely harassment free and everyone is welcome either alone or with a friend <3 Warm drinks and snacks are also available!
Pilates style exercise
14-14.45
SportUni, City Centre Atalpa, Group exercise room
Terveystieteiden ainejärjestö Salus ry
Well-being and community with Salus!
Come exercise and stretch in honour of wellness-week! The exercises are inspired of pilates, but you do not need any experience in the sport. According to this wellness-week's theme ""community"", we will do some of the exercises in small groups :)
Skate session and skate trial
14-17
SportUni Hervanta, Bommari, skate park
TTHP
TTHP is organizing a skateboarding sesh and trial as a part of the wellness week. If you've been wanting to try skateboarding, now's the perfect chance!
Skateboarders of all skill levels are welcome to the event and there are some extra boards to practice with if you don't have your own. During the event you get to skateboard and get to know people in a good and supportive environment. The event lasts 3 hours but you're welcome to stay for as long or as little as you feel like. We'll leave to bommari together from sähkötalo lobby at 2pm, but you can arrive there at any time on your own as well.
Sowing overall badges and gamenight
17.30-20
TAMK main campus, Parvi B1-24
Tamko
Overall patch sewing & game night
Come to sew your overall patches and play boardgames alone or together at Parvi on B1-hallway on Wednesday 9.11. at 17.30-20 o´clock.
EO family night
18.30
Pellavatehtaankatu 19
Evankeliset Opiskelijat
Come and find your community in our church! There will be singing, playing games, getting to know new people and hearing about Jesus.
You are welcome just as you are!
Breakfast
8.30-9.30
Tamko office, Kuntokatu 3, L-building
Tamko
Come alone or together to get free coffee and breakfast on Thursday 10.11. starting at 8:30 o´clock in front of Tamko´s office Solu. Breakfast will be served for the first 100 people.
TVIK volleyball tournament
9-12
SportUni Hervanta, Tamppi Arena
Materiaali-insinöörikilta ry
Wellness Week and with it the TVIK volleyball tournament are coming again!
The flying tournament will be held on 10 November from 9 to 12 p.m. at Tamppi-Arena in Hervanta. The number of teams is limited, so you better sign-up fast 😉 The team has a maximum of 6 players on the field at a time, so consider the size of the team from that deck.
This wildly fun tournament costs nothing, so you don't get the team together and sing-up! Registration can be accessed from this link: https://forms.gle/pazB9dqQG612dQYi7
Registration starts on 31 October at 12! It is also binding to make it sure to make nice games up 😊
If you don't find team mates or you don't want to participate in the tournament, then after the games themselves will be held after-games at Tamppi-Arena at 12 noon! NOTE! although the event is traditional every year, there have never been such after-games before. So I can't judge if there will be too many players or too few players, but let's hope there will be a good fit! This event is sponsored by TEK!
Kaamos relief disco
11-13
SportUni Kauppi, Sports hall
TAMK Parvi
Kaamos relief disco
Welcome to daytime disco organized by TAMK Parvi in SportUni's sports hall! When the darkest days of the year are approaching, kaamos is relieved by dancing together, eating crepes or taking a nap in a nap corner.
Artcenter mältinranta
16->
Tamko office, Kuntokatu 3, L-building
Tamko
Come along to Artcenter Mältinranta, alone or together, to look at contemporary art exhibition on Thursday 10.11. We´ll leave together from Tamko´s office Solu at 16.15 o´clock, from where we´ll transfer to Mältinranta using public transportation. The artcenter is free of charge, but you have to pay for the public transportation for yourself.
Speed dating
16.15->
TAMK main campus, Parvi B1-24
SOPU ry
Hi students!
Do you want to get to know other students? Have you only met people from your studies? Don't you quite hear what people say in the bar?
Did you answered yes to any of the questions? Well than this event is just for you, since SOPU ry is organizing speed dating! In this event you get to talk with all kinds of people without any pressure, make friendships or what ever this brings to you! You can come alone or with friends, the event is harassment free, free of charge and open for all TAMK's students no matter what you study.
WHAT: Speed dating
WHERE: Parvi, B1-24 (service street)
WHEN: Thursday 10.11. from 16:15 during wellbeing week
WHY: So nobody stays alone and we get new friends <3
Walking in the woods
18-20
Start at Tamko's office, kuntokatu 3, L-building
Tampereen orastavat lihakset urheiluseura ry
The days are getting colder and darker it might be difficult to go for a evening walk. What could be better than meeting new people and walking around a forest. For some it could be a little difficult to start a small talk but with Tolu you don't have to be shy! We can talk about anything in between of the earth and sky. I mean we can also talk about the cosmos too. 🤪
Collective teamsports
9-10 &10-11
SportUni Kauppi, Sports hall
Tamko
Come along to play floorball (9-10 o´clock) and futsal (10-11 o´clock) alone or together at SportUni´s sporthall on Friday 11.11.! You don´t need SportUni´s membership to participate.
Relaxing corner
12-14
TAMK main campus, H0-06
Tamko
Come to relax or take a nap after lunch either alone or together on Friday 11.11. at 11-14 o´clock in class H0-06.
Speed friend date
17->
TAMK main campus, B1 lobby
Source ry
Similar to speed dating but instead of dating the idea is to make friends. So basicly the idea is to divide people in to small groups and get them to chat. Hopefully everyone can make some friend there