---
Events
This page will be updated with 2020 Wappu events later on!
Jäynä competition's fuksileague begins!
Wappuradio starts at 2 pm! 106,4 MHz
13:00-14:00 Unveiling of the Tamppi // Wappu start
Place: Festia big auditorium, Hervanta campus
Tickets: free of charge
The unveiling of the 42nd Tamppi is a spectacular 1-hour show which contains a lot of humor and amazing acting. At the end of the magnificent show the famous Wappu magazine Tamppi is going to be revealed. The show is held in Finnish.
Wappulehti Tamppi is an annual magazine filled with jokes, drawings and good teekkari humor. It has been released every May since 1978 and it is the longest-running Finnish Wappu magazine. Even though Tamppi's roots are in Hervanta, it's still made for everyone to cheer up their Wappu celebrations!
14:00-15:00 Pre-Colours
Place: Festia stairs, Hervanta campus
Tickets: free of charge
Wappu feeling continues in the Festia hoodz straight after Unveiling of the Tamppi! Want to get past the queue to the party in the evening? This is the PRESALE for the Colours party, but there are tickets only for the fastest and the boldest. You can also get the brand new Colours-overall patch. There is also sweets, sausages, overall patches and cool competitions where you can get your tickets for free!
klo 18:00-19:00 ESN FINT Wappu for Newbies
Paikka: Idea tila, Linna, Keskustan kampus
Hinta: Ilmainen
Wappu time is here! But what does it mean exactly? Come and join us on Wappu for Newbies event and you'll find out!
Enjoy some sima and munkki and get all the information needed when it comes to Wappu – the biggest student fest of the year in Finland.
18:00-00:00 NamiSitsis
Place: Hatanpää soutupaviljonki,
Hatanpäänkatu 6
Tickets: 15€
Bioner is organizing NamiSitsis, the sweetest sitsis of the year, right at the beginning of Wappu! You'll find more information and the sign up-link on the event's Facebook page. The event will be held in Finnish.
22:00-05:00 Colours // Teemutour 1
Note: Teemutour stamp can be earned from outside 22:00-00:00
Place: Viihdemaailma Ilona
Tickets: 3/5€
THE Greatest party of the year is around the corner yet again! Come with your friends to celebrate the beginning of the Wappu in the riot of colours at Ilona!!! You can get your advance tickets from Pre-Colours from Festia yard straight after Unveiling of the Tamppi.
12:00-15:00 Wapina // Teemutour 2a
Place: Bommari, Hervanta campus
Tickets: free of charge
Once again Man@ger presents to you the most horrifying wappuevent of them all! In Wapina
you will travel through the depths of Bommari and face your greatest fears. On this day, Bommari will be filled with nightmares and the most terrifying students. Gather a Small group of your friends or, if you dare, venture by yourself.
12:00-19:00 Randomwideogametournament // Teemutour 2b
Place: Sähkötalo lobby, Hervanta campus
Tickets: free of charge
If you are the strongest gamer of Wappu or are waiting your first touch to gaming controller, head to Hervanta campus Sähkötalo lobby to enjoy the day with video games. There are many different beginner friendly games where even the most experienced can test their true skills. In some of the games we record the best players of the day who are getting to invited to the evenings tournament where we will find the Wappu's most random wideogamer! So what are you waiting for? Shelve your textbook and wear your sweat pants proudly and join the fun in the lobby to experience the fun in the video games and in the Wappu!
12:00-16:00 KrappePicnic
Place: Etunurtsi, Hervanta campus
Tickets: free of charge/10€
As Wappu goes on, one can become little bit exhausted, tired and thirsty. The best cure to these is people suffering from same problems and greasy food! For those who have overcome these problems, there are other activities for these strong souls too. Arrive to front lawn (Etunurtsi) in Hervanta to enjoy the descendant of Koneenrakentajakilta's traditional Krappesitsis: KrappePicnic! You only need to take your (possible) hangover with you! The price of the event contains food and non-alcoholic drinks. Other activities are open for everyone. The event is harassment-free. Tickets from ilmo.kork.fi
13:00-15:00 Easter egg scavenger hunt
Place: Etunurtsi/Front lawn, Hervanta campus
Cost: Free of charge
BOING-BOING! What's that? That's the sound Easter bunnies make when they hop around! Hoppity-hop along with TaSciEn and prepare for an adventure, 'cause we are going hunting! Grab Easter by the eggs, gather your friends and
participate in a once-in-lifetime EASTER EGG SCAVENGER HUNT of TaSciEn! Glory awaits as you will roam the campus hunting for the yolk folk and demolish your competition! In addition to the unforgettable experience of dominating their opponents, the winners shall get a big, fat, mean chocolate CHUNGUS of a bunny that we have fed with smaller, weaker chocolate bunnies for this special occasion! Let the race begin!
18:00-21:30 Cantus
Place: Bommari, Hervanta campus
Tickets: 2/5€
EESTEC presents: Cantus!…? What's that?
Do you want to find out how students in Belgium party? Belgian/Dutch/German style event where you sing songs drink few beers, and make new friends! During the night you may learn some new songs and even latin! Your song book and overalls should be the only items you need for this event. Sign up at https://tinyurl.com/ wappucantus. The ticket of 5€ includes drinks, otherwise the cost is 2€.
19:00-21:15 Syntymäpäiväjuhlat/Bithday party
Note: Plays also 25.4. and 27.4. More information tukkateatteri.fi
Place: Tukkateatteri, Laukontori 12
Tickets: 7-20€
Syntymäpäiväjuhlat is a well-known play The Birthday Party by Harold Pinter. It will be performed in Finnish. In the setting of a rundown seaside boarding house, a little birthday party is turned into a nightmare on the unexpected arrival of two sinister strangers. The play has been classified as a comedy of menace, characterised by Pinteresque elements such as ambiguous identity, confusions of time and place, and dark political symbolism.
22:00-05:00 Wappulove
Place: Roska, Aleksanterinkatu 22
Tickets: 3/4€
Wappulove brings glowing love to Tampere in a whole new way. The venue is filled with uv lights and the party people get to paint themselves with uv paints that tell their relationship status. The event will also include some show numbers that go along with the theme. Wappulove offers an eventful start to Wappu and offers a chance to find your love. If you're not interested in finding love then you can seek out a crew to party with whole Wappu long!
11:00-15:00 Takatalwi/Backwinter
Place: Etunurtsi, Hervanta campus
Tickets: free of charge
Is the winter over too soon? Was the skiing season too short? No problem, TTHP brings the winter back to Herwanta kampus! Bring your skis or snowboard to the front lawn and join us for our session! We will bring our rail and of
course SNOW!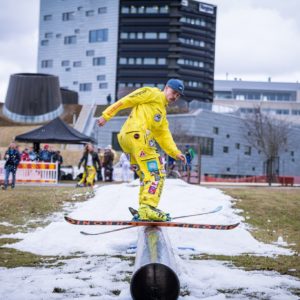 12:00-16:00 Munapeli // Teemutour 3a
Place: Etunurtsi, Hervanta campus
Tickets: free of charge
What egg game? This game takes teamwork, accuracy and having fun. So come to play together with friends. After the day the best ones will be awarded.
12:00-20:00 Laskeuma
Note: The ticket sale has begun before Wappu, for remaining tickets check the Facebook-event!
Place: Bommari, Hervanta campus
Tickets: 20€
"Wappu started with a bang and pale looking people fill the streets. The fog of Wappu is so thick that I can't see anything and even radioactivity is radiating from the campus. At least in Bommari I will be safe." Wrong! You won't escape this Laskeuma (fallout) even in Bommari when Töölön Ketterä starts blasting. In addition to great music and
food, Teekkarijaosto will entertain you with different sillis activities. If you didn't get a ticket to Laskeuma, be sure to catch one for the after-party (Nousut) where Tiisu will rock your socks off!
15:00-16:00 Kaljamaili
Place: Etunurtsi, Hervanta campus
Tickets: free of charge/5€
KeparDI, the orienteering club of TUNI organizes the traditional beer mile, which has gained publicity also in Wappuradio. Beer mile consists of both running and drinking official malt based sports drink. Otherwise
we follow the official beer mile rules but the competition will be run on the Hervanta campus front yard instead of track. Entries for the competition at front yard. Entry fee 5 euros, includes compulsory competition equipment.
Alternatively a competitor can bring their own competition equipment whereupon there will be no entry fee. You can take part in beer mile with non-alcoholic malt based sports drink as well. More information about beer mile in
general: www.beermile.com'
18:00-20:00 NääsPeksin Wappuspektaakkeli //Teemutour 3b
Place: Festia big auditorium, Hervanta campus
Tickets: free of charge
May we proudly present: the WappuSpectacle! This larger-than-ever show in Festia's large auditorium includes improvisational theater, singing and dancing, so enjoynment and entertainment is guaranteed!
Line-up:
– Improv group Iloinen Mursu
– Teekkarikuoro
– NääsDance
– NääsImpro
And what does this show cost? Nothing at all! So grab your friends and head to Festia and let us entertain you!
18:00-21:00 Lautapeli-ilta ja viineily / Board games and wine
Place: Lautapelikahvila Taverna, Puutarhakatu 13
Tickets: free of charge
Come to play board games to Finland's only board game cafe with Social Democratic Students and Youth of Tampere.
20:00-04:00 Nousut
Note: The ticket sale has begun before Wappu, for remaining tickets check the Facebook-event!
Place: Bar Panorama, Hämeenkatu 13
Tickets: 5€
Laskeuma is behind us and the fog of wappu has been beaten. Life is clear again and it's time to raise our spirits in Nousut! This after-party will make sure that everybody is hanging from cloud nine when Tiisu starts entertaining the party folk. You won't be let down even when Tiisu stops because DJ Jussi Kangas will keep the party going. The theme of the party is simple: Wappu! Dress up in your Wappu clothes and keep the Wappu spirit high together with the
other partygoers! The tickets cost 5€ and they will be available on all three campuses before Wappu!
10:00 WappuEscape starts!
Place: Etunurtsi, Hervanta campus
Tickets: 15€ per team
YKI is arranging WappuEscape now for the third time. WappuEscape was honored the award of the best Wappu event of 2017. The goal is to solve the mysteries inside our escape room and get out in 45 minutes.
WappuEscape is an escape room experience which you can't find anywhere else. WappuEscape is a daily event so as many people as possible could enjoy it. Challenge yourself and your friends and come to Hervanta's front lawn between 18.4. and 30.4. The game is open during these days from 10 to 18. The game is playable both in English and
Finnish. The ticket sale begins on Tuesday 9.4.!
10:00-13:00 Merkkimarkkinat / Badge Fair
Place: Päätalo lobby, Centre campus
Tickets: free of charge
Do your overalls need some tuning? More colours? Don't they have enough funny badges? Your wishes have been granted, as the traditional Badge Fair returns! Badge Fair is held at Centre campus lobby on 18.4.! At this event all the associations of our university can sell their own badges to the students. There will be a selection beyond your wildest
dreams of badges ranging from official logos of organizations to funny memes! So come to make some great finds and tune your overalls for the remainder of Wappu!
12:00-16:00 TARAKIn Wappurastikierros // Teemutour 4
Place: Etunurtsi, Hervanta campus
Tickets: free of charge
Does your Wappu need some fresh air and easy-going activity? Come to TARAKI's Wappurastikierros at Etunurtsi in Hervanta campus. Wappurastikierros is a control point event where you get to perform some funny, functional and easy tasks. You can take part with your own group or gather a new group at the event. The recommended size of groups is 3 – 5 members. Come in to find out are you the most competitive member or the biggest supporter of your group!
13:00-16:00 Doges of Wappu
Pring your own nice dogs to celebrate Wappu with us!
Place: Etunurtsi, Hervanta campus
Tickets: free of charge
What is going on, when something soft and furry has arrived in Hervanta campus frontyard? That's right, for the first time ever, there's an opportunity to enjoy afternoon with lovely dogs, when Doges of Wappu is happening in Hervanta! At this warm-hearted event you'll have a chance to spend your day buy hugging dogs! We also get to enjoy amazing dance shows as UniDance's show and street dance crews perform at 13.00. So, you know what to do: Leave the possible school stress behind you and come to meet some doges in Hervanta!
14:00-16:00 TeLEn katusählyturnaus / TeLe's street floorball tounament
Place: Court between Kampusareena and Konetalo, Hervanta campus
Tickets: free of charge
Wappu's biggest street floorball tournament is here!!! Collect at least four-person team and come to fight Wappu street floorball championship. The court is located between Kampusareena and Konetalo in Hervanta campus. You are able to borrow equipment on the spot. There will be relaxed atmosphere and games. For more information, check our
Facebook event. BYOB (Bring your own sports drinks). Sign up: https://tinyurl.com/teleturnaus (Deadline 13.4.)
22:00-02:00 Opiskelijoiden rokki-ilta/ Students rock evening
Place: Jerun piilopaikka, Hämeenkatu 10
Tickets: free of charge
April's Rock & roll night for students! The entrance is free. Come enjoy karaoke, drinking and SLAYER.
14:00-22:00 Junttariaatto/ Junttari eve  //Teemutour 5
Place: Sähkötalo inner court, Hervanta campus
Tickets: free of charge
Junttarit turns 20! To celebrate this we have created an outdoor event for _everyone_ on 19.4. There will be live music, barbeque and some other activities. There might also be some surprise numbers..?
17:00-20:30 Nääspeksin rainankatselmus
Place: TB103, Tietotalo, Hervanta campus
Tickets: free of charge
NääsPeksi is showing a video recording of one of their previous theater productions. As for which production they are showing, it's a surprise. You are welcome to watch the show, but note that it is only available in Finnish, and
unfortunately there are no English subtitles. The show is about 3 hours long and contains an intermission.
18:00-23:00 Poikkitieteellinen Beer pong-turnaus/ Interdisciplinary Beerpong tournament
Place: Messukylän työväentalo, Messukylänkatu
Tickets: 20€ per team (max. 6 players!)
Interdisciplinary Beer pong tournament brought to you by Interaktio, Iltakoulu, Patina and Staabi. It's time for a new beer pong tournament! The goal is to hang out with other students and play together in a good spirit. The theme for this tournament will be college party. The winner of the tournament will be rewarded as will the best costumes and team spirit also. So gather your team and come to play with us!
12:00-17:00 Tupsulan ulkoilmakonsertti/Tupsula Open Air // Teemutour 6
Place: Tupsula, Annalankatu 10
Tickets: free of charge
Tupsula once again organizes Tupsula Open Air on the first Saturday of Wappu. There will be an afternoon full of good music and fun. Sauna and pata will be warm so bring a towel.
13:00-14:00 Man@gerin wappumössö
Place: Tupsula, Annalankatu 10
Tickets: free of charge
Wappumössö made by Man@ger's secret recipe.
13:00-02:00 Bosa Wappu Road Trip
Place: Around the Pirkanmaa region
Tickets: 15€
Dresscode: Overalls
Are you ready for Bosa's greatest trip of the year, Wappu Road Trip? Wappu Road Trip is a legendary trip which is arranged every year and will take you to the most surprising placesimaginable. The places are traditionally kept
secret before the trip, so the only way to find out where we are going this year is to jump aboard the bus yourself! Departure from Tampere Hall (Tampere-talo). The cost includes the ride, an overall badge, some food, the after
party at Klubi 57 and of course some drinks – some beer or cider brewed by Bosa and some drinks from our sponsor, Saimaan juomatehdas. The thirstiest might still want to take some own drinks with them. The event is usually sold out
fast, so make sure to grab your tickets ASAP!
18:00-23:00 Junttarit
Place: It's a secret
Tickets: 20€
The legendary Junttarit are here once again! This year Junttarit turns 20, so it's gonna be bigger than ever! On Saturday 20.4. it's the traditional Junttari sitsis day at location X. Departure from Hervanta campus and Tupsula.
12:00-16:00 TaKoRUn Self-defence seminar
Place: Bommarin tatami, Hervanta campus
Tickets: free of charge
Self-defence seminar for all. More info at takoru.fi
13:00-18:00 Wappuradio LIVE! // Teemutour 7
Place: Etunurtsi, Hervanta campus
Tickets: free of charge
Wappuradio LIVE! fills the Etunurtsi in Tampere University's Hervanta campus again this year with sunshine and awesome music on April 21st. Come and enjoy the festival vibes in the middle of our beloved campus and bring along
all your friends too – this concert is completely free of charge! The event is accessible and can also be enjoyed without alcohol.
14:00-18:00 Iltapäiväkertho
Place: Spinni club room, Sähkötalo basement,
Hervanta campus
Tickets: free of charge
Welcome to the best after-school club of our university: Spinni's Iltapäiväkertho! The traditional afternoon mayhem at Spinni club room welcomes all Wappu party people to chill and enjoy good music, play board games
and draw and craft artistic masterpieces beyond imagination. For those who are hungry and thirsty we have prepared waffles, punch bowl, mead and more!
12:00-17:00 Wappu Racing Cup // Teemutour 8a
Place: Etunurtsi, Hervanta campus
Tickets: free of charge
Come to test RC-car driving! For this non-driving license remote controlled activity, you don't need anything else than to come to the right place. The event is free of charge for everyone. So instead of getting bored in your apartment, come to unleash your spiritual Lewis Hamilton!
12:00-16:00 TamArkin wabusarjis /TamArk's Wabucomic
Place: Etunurtsi, Hervanta campus
Tickets: free of charge
Everybody can be a scriptwriter in TamArks's wabucomic. The drawer changes after every frame so the story will be full of plot twists! Let your creative side out and give your own touch to the story. You don't have to be an artist to draw stick figures!
12:00-15:00 MallasMaraton/MaltMarathon
Place: Bommari, Hervanta campus
Tickets: 2€
Do you think that Netflix&chill isn't enough for you in the Wappu? Hey, so do we! Join us in the epic MaltMarathon! MaltMarathon will be held in Bommari and the rules are simple: you just drink a shot of beer every minute (all other drink options are also ok). In addition to beer drinking we will enjoy watching Disney movie, which will be revealed later. You will compete only against yourself, and you are free to choose whether you want to participate in a 60-minute or 100-minute series. In a 60-minute series you will need 8*0,33l drinks and in 100-minute series you need
13*0,33l drinks. Come with us and start your Wappu in a new and wild way, that you have always missed. The
organizers will provide all the necessary tools that are needed excluding drinks! The costs of
the event is only 2 euros and tickets will be sold at the venue. As always, the event is equal and fair, and free from all kind of harassment. There is unobstructed access to the venue, but unfortunately we don't have invalid toilets in the
Bommari.
16:00-18:00 Katukorista ja gangstaräppiä
Place: Tammela school, Ilmarinkatu 17, Tampere.
Tickets: free of charge
Come to play basketball, chill and enjoy rap music with Iltakoulu, Interaktio and MAGS (Academic Gangsta rap association of Tampere)! We can ensure a laid-back atmosphere, where playing skills don't matter and everyone is warmly welcome!
17:00-22:00 Megalauluiltama/Mega Singing Night // Teemutour 8b
Place: Teekkarisauna Mörrimöykky,
Tekniikankatu 9
Tickets: free of charge
Teekkari Section organizes Mega Singing Night again on this Wappu! This year Mega Singing Night is going to be
extra awesome, as the legendary Finnish music show Bumtsibum makes a comeback with songs from the song books at Teekkarisauna. In Bumtsibum teams compete in guessing and performing songs. Proficient accompaniment will be helping you out with melodies all night. Bumtsibum will be held multiple times during the evening, and all
winning teams will be rewarded! The event is part of Teemuround, and technical fuksis will get singing qualification points to their fuksi passes. For a Teemu stamp you need to take part in at least one Bumtsibum, and stamps are given up until 10 p.m. The sauna itself is open well into the night. So, study the pages of your song book, take
a few friends with you, and come to the Teekkarisauna for some song competition!
17:00-21:00 Wapun Tekken Tournament
Place: TietoTeekkarikilta's guild room, Tietotalo basement, Hervanta campus
Tickets: free of charge
TiTe organizes the traditional Wappu Tekken Tournament at their guild room. The tournament is free and open for anyone, all you have to do to attend is arrive at TiTe on the given time. There are prizes for the best.
21:00-04:00 MOONes
Place: Kaijakka, Laukontori 12
Tickets: 3/5,5€
C'MOON! MOONes party takes place at Kaijakka on 22th of April. This will be the MOONshot of your Wappu. Put on your overalls and be ready to send your Wappu vibes to the MOON! Guilds' chairpersons sell tickets beforehand for 3 euros. With pre-ticket you don't pay for the cloakroom. Tickets are 5,5 euros from the door.
22:00-04:00 Pornobileet/Porn party
Place: Roska, Aleksanterinkatu 22
Tickets: Unknown
The legendary Porn Party travels on the edge of fantasy and reality as the dance floors of Roska will be taken over by the sinful party-goers and the sexy performers who'll make everyone turned on. The student-friendly prices will ensure a wild night and the less clothes you have on the better – of course you're also permitted to wear the always sexy overalls.
10:00-20:00 Lautapelipäivä/Board game day
Place: Rakennustalo lobby, Hervanta campus
Tickets: free of charge
Take yourself/friends/games with you and come to play with nice people/games of Excalibur.
12:00-03:00 Wappuvaihto/Wappu exchange // Teemutour 9a
Place: Otaniemi
Tickets: 15€
The most exotic culture trip of the year, Wappu Exchange is here once again! On Tuesday the 23rd of April a bunch of
students from Tampere head to Otaniemi to experience a day from their Wappu, composed of the Jäynägaala and release of Äpy. Following the activities the event ends with a sauna and hanging out with the locals. We take off from
Hervanta campus.
12:00-19:00 WappuMättöRundi
Note: The ticket sale has begun before Wappu, for remaining tickets check the Facebook event!
Place: Tampere centre area
Tickets: 5€
OKA, ITU and Mentor are arranging a sweet activity! The coolest and sweetest happening during Wappu: the "WappuMättöRundi" is here again to all students who have got a sweet-tooth! So take your friends with you and get yourself sugar high by eating cakes, candys, cupcakes etc. in different cafees in Tampere centre area! After that you can relax in the after party. If it's not your first year attending WappuMättöRundi, remember to sew your previous delicious muffin badges to your overalls so you can achieve the next ones! This year's mouth-melting café offers can be found on WappuMättöRundi 2019 Facebook event or on Instagram @WappuMättöRundi. We welcome you to eat the sweetest hangover of Wappu!
12:00-19:00 Mentorin Wappukahvila
Place: EDU`s Café, 3rd fl. Virta building, Centre campus
Tickets: free of charge, items 1 – 5€
It's time for Mentor ry's WappuCafe! Welcome to enjoy coffee or tea and pastries! Salty and sweet eating are available. See you at Virta building's EDU's Cafe! We are also part of WappuMättöRundi's map. We also sell Mentor's
badges and we accept cash and Mobilepay. If you have any questions regarding the event, be it about accessibility or anything else, please feel free to contact by email at mentor.vujut@gmail.com. Let's all be respectful towards one another and work together to make sure everyone has great time and feels safe.
13:00-16:00 KumipelausISO ft. Pimp My Grill // Teemutour 9b
Place: Suolijärvi beach, Suolijärvenkatu 5
Tickets: free of charge
Skilta organizes the amazing KumipelausISO once again! This beautiful game combines swamp soccer, junttari wrestling, wife carrying and chess. The beauty of the game is in its wondrous rules and the unlimited power of the referee. The games will take place in the beautiful beach of Suolijärvi on Monday 22nd of April starting at 13 o'clock.
In addition, the Pimp My Grill event will be arranged at Suolijärvi at the same time, so you can bring your pimped up grill there, too! Come to check the food and the grills. The judges will choose the most mind-blowing grill and the most luscious BBQ and award them with equally amazing prizes. Even if you can't really pimp any grills, you can always come to enjoy the relaxed atmosphere!
18:00-00:00 Kellarihumppa
Place: Bommari
Tickets: 3€
Dear Wappu people! The traditional
Kellarihumppa organized by YKI and TARAKI is going to be held at the nostalgic Bommari Dance Hall. The cost of the event is 3€, which includes also a cup of coffee/tea and a brownie slice. The fabulous Palle ja paukkuvat henkselit
will be in charge of the music, so that the ones just beginning their dance careers will also catch the beat.
As usual, "The Ugliest Flower Dress" and "The Ugliest Tie" competitions are going to be held. So put on your ugliest dance outfit on and enjoy the night!
19:00-22:00 Bosan vahvasti humaloitujen oluiden ilta / Bosa stongly hopped beer tasting
Place: Gastropub Kaleva, Pellervontie 9
Tickets: 15€
Bosa is arranging a strongly hopped beers tasting in Kaleva on Tuesday 23.4. There will be an expert telling us about the beers. Ticket of 15 euros includes 4-6 tasting portions and some snacks. Sign up via link which will come to the Facebook event. Unfortunately the event will be held entirely in Finnish, but you can still participate if you just want to drink and socialize.
12:00-15:00 Akateeminen Herwannan Vahvin Mies & Nainen/ Strongest man & woman in Hervanta
Place: Between Kampusareena and main
building, Hervanta campus
Tickets: free of charge
The fiercest event during Wappu, where the strongest of Hervanta clash together. The competition consists of traditional strongman displays of strength, such as log press, farmers walk and tire flip. Previous experience from
strongman sports is not required.
13:00-20:00 Wappuleffa/Wappumovie // Teemutour 10a
Note: You can pass the queue if you've dressed up according to the theme!
Place: TB103, Tietotalo, Hervanta campus
Tickets: free of charge
The best Wappu film ever made comes to Tietotalo, TB104 – The Blues Brothers are here! This excellent classic is not the only reason why Wappu movie is one of the most important events of a successful Wappu: instead of just watching a film, you'll find yourself partying with other people over and over again. The awesome day begins by joining the epic queuing experience well before the scheduled screening times! Queueparty near Tietotalo's main doors! For the most enthusiastic viewers there will be a different movie to watch after the first screening of The Blues Brothers.
Enthusiasts who dress accordingly (suit, hat & sunglasses or a nun costume) will be let in first! So suit up and join the party!
Schedule (initial):
13:00 Blues Brothers
15:30 Second movie
17:30 Blues Brothers
13:00-18:00 Herwantapeliturnaus
Place: Etunurtsi, Hervanta campus
Tickets: For spectators free of charge
Herwantapeli. the most pleasant group activity is coming to Hervanta Campus' front yard again this Wappu in the form of the Herwantapeli-tournament! Tournament ideally, depending on the amount of teams will consist of 3 group
stage games and a final, with each games winner and one random loser team. Come and spectate!
15:00-18:00 TTSS WabbuGoncerddi
Place: Etunurtsi, Hervanta campus
Tickets: free of charge
TTSS musicians entertain the Wappu people with a real outdoor concert at the front lawn once again! The music is theme based and the theme will be revealed before Wappu, stay tuned! Come and listen!
16:00-19:00 Wappu-Bic // Teemutour 10b
Place: Tamppi Areena, Hervanta campus
Tickets: free of charge
We exercise even during Wappu in Tamppi Arena! This megalomaniac marathon bic leaves nobody cold on Wednesday. Wappu-Bic starts at 4pm with Grr8t Sports' nonstop Bossaball and at the same time with more traditional Group exercise classes, spiced up with some Wappu spirit. Group exercise classes are in the group
exercise hall and there is limited amount of space. Program:
Ball Hall: 16-18 Nonstop Bossaball
Group exercise hall:
16-17 Fityoga (in English)
17-18 Combat (in English)
18-18.30 FuncTr (in English)
18.30-19 Stretching (in English)
Pick your activities or try out the whole set. Event is free of charge and open for everybody in Tampere Universities so grab your fellow students and colleagues with you.
16:00-04:00 Särkän Märkä
Place: Särkänniemi and the hottest clubs and bars in Tampere
Tickets: 16€
Tampere goes wild when thousands of students around Finland arrive to the best event of the spring! Särkän Märkä takes its place in the heart of Tampere on Wednesday 24th of April. Särkänniemi is reserved exclusively for students
and the doors to the event open at 4pm. Särkänniemi offers tons of adventure park rides and rollercoasters – not to forget student priced drinks and foods. Naturally the day doesn't end here. After having fun at the adventure park, busses will take the party people to the epic afterparty of your choice in the centre of Tampere.
18:00-21:00 Wappuvisa/Wappuquiz // Teemutour 10c
Place: Varjobaari, Hervanta
Tickets: free of charge
On the footsteps of original Teekkariquiz, we're going to hold three quizzes starting at 18, 19 and 20. The winner of each quiz will be awarded with a wappuisa prize! After the event, a magnificent artist will conquer the stage of
Varjobaari.
21:00-00:00 Wappuquiz after-party
Place: Varjobaari, Hervanta
Tickets: free of charge
Continue the evening after Wappuquiz at the
after party! This takes place at Varjobaari at
21:00. Live music by Jeejee 'n that's it.
09:00-13:00 Wappu Fly-in
Place: Tamppi Areena's sports hall, Hervanta campus
Tickets: free of charge
Come try indoor flying in Tamppi Areena's sports hall 9am-1pm 27th September 2018!
Radio-controlled aircraft will be freely available for testing. You may also bring your own (drones and copters below 250g). There will be awards for the winners of the paper plane contest!
12:00-16:00 Untuvikkojen korkeakoulu // Teemutour 11a
Place: Festia, Hervanta campus
Tickets: free of charge
A new rappelling event at Hervanta campus. Come to descend from Festia's roof safely with professional's guidance, free of charge!
12:00-16:00 Wappuvälitunti /Wappubreak// Teemutour 11b
Place: Etunurtsi, Hervanta campus
Tickets: free of charge
Is school hard and boring? You just want back to primary school? You can't change study subjects but at least you can make breaks more fun. Come to play with Hiukkanen 25.4. from 12am to 4pm and play like a child. At Wappubreak
you can jump rope, play dodgeball and football. There are many fun games to play!
12:00-16:00 SIMAkisa/SIMAcompetition // Teemutour 11c
Note: Teemu stamps with own mead or extra
task.
Place: Etunurtsi, Hervanta campus
Tickets: free of charge
Wappu's wettest MEAD competition is a traditional sappy competition where people can bring their home made mead to the most epic mead tasting of wappu. UrOs does the taste testing between 12-16 at Hervanta campus Front Lawn and in the evening the best mead will be announced at the official after party at bar
Roska.
13:00-17:00 TaKoRUn wappugrilli
Place: Etunurtsi, Hervanta campus
Tickets: free of charge
Interested in military stuff? Come to BBQ with TaKoRU
14:00-16:00 Jäynäbox
Place: Etunurtsi, Hervanta campus
Tickets: free of charge
The fuksi series of Jäynä competition is coming to its end and all the Jäynäs are being handed to the Jury in the great JäynäBox event. Come to watch what kind of great shows and spectacles the fuksis have invented yet again!
14:00-17:00 Kuinka pelata ja selvitä Crapsista / How yo play and survive Craps
Place: Unknown
Tickets: free of charge
The how to play and survive Craps -seminar. The event consists of seminar presentation about a party game version of the dice game Craps. These presentations will be held in Finnish. Afterwards there will be a show match and a possibility to play the game in smaller groups with advice from our specialists.
18:00-21:00 Kipinän Munkkilenkki
Place: Metso-kirjasto/Pyynikki
Tickets: free of charge
Which things represent the Finnish vappu and spring? Well traditional Finnish jam doughnuts and jogging of course! Munkkilenkki is organized by Kipinä (class teacher students club of sport and culture) and everybody from every campus is more than welcome! Munkkilenkki has simply two purposes: eating doughnuts and jogging. So sports, good company and great local delicacies all in the same package! The event starts by running/walking the 4km long route. You can choose between jogging group or the walking group. So the main point is not to run as fast as we can but to enjoy the views of beautiful Pyynikki (and of course the doughnuts) There is also one challenge during the run: to climb the famous Pispala stairs (310 stairs!). At the finish line the superdelicious doughnuts of Konditoria Mari are waiting for us! The start is from Metso library and the first 100 participants who arrive on time to the start, will make sure that they get the doughnut at the finish! So be early at the start!
18:00-02:00 Gambbailu-sitsit
Place: Pursiseura
Tickets: 15€
Celebrating the Valborgs day without academic table parties or good beverages is like Finnish summer without electric motors. There are no champions in the long path of life's many miseries. This is why Patina and Tampereen akateemisesti sivistyneen Gambinan ystävät gives you an excellent chance to be your own GHAMBION! Thus the theme is martial arts and Gambina so be prepared. Tickets are sold in Facebook event. Event is open for everyone.
22:00-05:00 Wappukolmiot
Place: Ravintolat Ranta & Poro
Tickets: 3/5€
Although Wappu is nothing but partying, there is still one party over the others: Wappu Kolmioparty! The biggest monthly student party in Tampere doesn't leave anyone cold, not even at Wappu. The already traditional Wappu
Kolmioparty is the cherry on top to your Wappu, so be there! Pre-tickets 3€, from the door 5€.
22:00-03:30 SIMAssa!-bileet/MEAD!-party
Place: Roska, Aleksanterinkatu 22
Tickets: 3/5€
Wappu's wettest MEAD competition's culminates in the evening when the MEAD!-party starts at bar Roska in Tampere city center. At the official after party the winners of the competition will be announced and the freshmen can come and collect puzzle piece to their Fuksi-puzzle! Ticket can be bought beforehand from the pockets' of brown overalls or from kide.app.
10:00-18:00 Poké-perjantai/Poké Friday // Teemutour 12a
Place: City Centre Campus: Päätalo D10b
Tickets: free of charge
Welcome to the Poké Friday! The purpose of the event is to watch the first four Pokémon movies with the beloved Finnish dub (English subtitles). We will take a small break after each movie, so you can redeem your Teemunkierros
stamp.
Timetable
12.00 – 13.20 Pokémon: Mewtwo strikes back
13.30 – 14.50 Pokémon 2: The Power of One
15.00 – 16.20 Pokémon 3: Spell of the Unown
16.30 – 17.50 Pokémon4ever: Celebi – Voice of the Forest
Free entry & event is alcohol-free.
09:00-16:00 VIP-Pesis Teemutour 12b
Note: Teemu stamp for spectating or extra task.
Place: Kauppi sports park
Tickets: For spectators free of charge
Welcome to spend a sporty spring day playing Finnish baseball! The legendary VIP-Pesis gathers student associations to compete over the championship of Tampere. Event is held at Kauppi sports park. The best teams will be rewarded
with amazing prizes! Please bring some cash if you wish to buy anything from the grill! If your dry mouth needs
something else than coffee to drink, that's also possible. There is no better way to enjoy Wappu than by playing Finnish baseball!
17:30-19:00 TaKoRU's Cooper and muscle strenght test
Place: Hervanta stadium, Lindforsinkatu 15
Tickets: free of charge
Come test your might at TaKoRU's cooper and muscle strength test.
18:00-22:00 Speed Friending Sitsit
Place: Kielikeskus, main building, Hervanta campus
Tickets: 5€
Your life's cheapest sitsis are coming again this Wappu! With only five euros (5 €), you get to
enjoy a sitsit and meet new people at ESN INTO's Speed Friending sitsit. The price also includes a sillis on the following day! No need to sign up beforehand: come to the sitsit place at 6 pm and you get to enjoy the event!
18:00-22:00 Sitsikisat/Sitsi competition
Place: Bommari, Hervanta campus
Tickets: 85€ per team
Do you enjoy sitsit and think that you are a rather good sitsaaja? The Wappu's most awesome sitsit are here and they are made by you! Academic Tableparty Platine organises Sitsi competition in which different teams compete for the
Sitsing Party of the Year –title. In this event you determine your own actions, theme, your (hopefully theme-based) food and your songs. Sitsit are supervised by the honourable jury which grades your performance and keeps the merry-making in control. Participation fee is 85 euros per team. Maximum number of participants per team is 15 persons. The price includes drinks, premises and guided action. Please note that you have to prepare your own food. Registration instructions will be announced at the Facebook event. Jury ranks the performances according the
cornerstones of Tampere sitsi-traditions andnthe best party shall be rewarded. The rules of the competition are at: https://tinyurl.com/sitsicompetitionrules
18:00-22:00 Kuohuviinimaistit/Sparkling wine tasting
Place: SJ212B, Sähkötalo, Hervanta campus
Tickets: 15€
The Wine and Beer club Château organizes the traditional sparkling wine tastings on the last friday of Wappu. If you want to find the perfect refreshent for example for the Vappu day, here you have a good chance to do it! The rumours say that a wine or two might come from a province called Champagne. The amount of participants is limited and you
have to sign up in advance. The sign-in opens a few weeks before the tastings on Château's mailing list and facebook page, in POP's event calendar, and a few days later on associations' weekly announcement emails. The tasting will
cost 15 euros.
19:00-00:00 ESN FINT Karaoke night
Place: Tiikerihai, Hämeenkatu 5 B 2. Krs
Tickets: Free of charge
What is the best way to celebrate Finnish tradition of singing in front of strangers? Wappu is about fun, celebration and freedom so don't hesitate enjoy a typical Finnish evening activity. Come and join us for a crazy karaoke night at Tiikerihai, with friends and your favourite songs.
12:00-16:00 Speksiolympialaiset // Teemutour 13a
Place: Etunurtsi, Hervanta campus
Tickets: free of charge
Have you heard about NääsPeksi? Come and see what the fuss is all about! Speksiolympialaiset is an event where you can try out your skills at different areas of a theatrical production and unleash your creativity! The event is completely free, and you can participate alone or with a group of friends. Signing up beforehand is not required.
12:00-16:00 Wapun valokuvauskävely / Photowalk of Wappu
Place: Tampere Centre
Tickets: free of charge
Camera Club Vastavalo organises a photowalk of Wappu Saturday the 27th April. We gather between the Main building and Pinni A building, in the front of underpass at 12 PM and begin our photowalk from there. There will be different kinds of photography milieu on our way. During the weekend there is also Pirkanmaa Art Orienteering and we will visit some photography exhibitions too. The event is open to everyone interested and a phone is also perfect for
shooting! Photowalk is a good opportunity for beginners to explore the features of their camera and of course, there are a lot of to do for more experienced photographers too. So, everyone can come to enjoy outdoors and explore photo exhibitions in good company. There is no limit on the number of participants. Welcome!
More information will be available on Vastavalo's website (http://vastavalo.kapsi.fi/photowalk-wappu-2019) and FB group closer to the event. Stay tuned!
15:00-18:00 Wapun laituripilkki/Pier fishing
Place: Ratinanrannan laiturit
Tickets: free of charge
Muikku organises a pier fishing event at Ratina.
Equipments are provided. The biggest catch will be rewarded. Everyone are welcomed to participate!
15:00-20:00 Wappukyykkä // Teemutour 13b
Note: Teemu stamp also from spectating.
Place: Mäkipuisto, Ahvenisjärventie 45
Tickets: free of charge
Wappukyykkä is here again! The event will be held at Mäkipuisto, Hervanta. Gather a team of at least four people and sign up at the spot before 4 pm. Come and feel the enjoyment of kyykkä in the middle of Wappu!
15:00-21:00 Wappunysse
Place: Tampere
Tickets: 2/5€
Wappunysse is here again! On Saturday 27.4. Spinni's legendary partybus will operate between Kyrpong world championship competition and Wappukyykkä. For the first time ever, the main route will be between Ahvenisjärvi and Sorsapuisto. As in previous years the bus can pick up party people in location of your choice if you can't make
it to the bus stop! All profits from the bus tickets will be donated to the Tampereen Lastenklinikan Tuki ry.
16:00-22:00 Kyrpong World Championships // Teemutour 14
Note: Teemu stamp also from spectating.
Place: Eteläpuisto
Tickets: Audience free of charge
Welcome to the first ever Kyrpong World Championships! Kyrpong is a fun outdoor game, which was created by Lexica and it brings joy to students year after year. Kyrpong combines the best qualities of beer pong and kyykkä. You will need precision, speed and passion if you intend to become the first ever World Champion of Kyrpong! If a team hasn't signed up according to the schedule, their spot will be given away. You can read the rules of the game online https://tinyurl.com/kyrpongmm. Unfortunately the rules are only in Finnish. You can also watch the video made by Lexica! The rules will also be told to each team before the competition starts at Eteläpuisto. The drinks will have to be 33cl cans and they will have to be CARBONATED! You can also play with non-alcoholic drinks and we recommend that all teams (especially those who will continue to the playoffs) bring non- alcoholic drinks as well as alcoholic ones. You are welcome to come and enjoy the World Cup by simply watching the games and having a good time even if you don't want to play yourself! You can also buy the official overall badge at the registering booth (cost 2€). The afterparty will be held at Doris!
22:00-05:00 Kyrpong World Championship afterparty
Place: Doris, Aleksanterinkatu 20
Tickets: free of charge before 00:00 with a
student card Welcome to the official afterparty of Kyrpong World Cup! The festivities will not end in Sorsapuisto. After the games we will head to Doris to relax and have a great time. You can attend the afterparty free of charge if you have a student card and arrive before 00.00 o'clock.
12:00-16:00 RJK – Drink, Food, Catapult // Teemutour 15a
Place: Etunurtsi, Hervanta campus
Tickets: free of charge
"A catapult is a ballistic device used to launch a projectile a great distance without the aid of explosive devices—particularly various types of ancient and medieval siege engines." -Wikipedia
In 2019 we have invented completely new usage for this medieval innovation. Come to Etunurtsi and see for yourself!
12:00-16:00 TTMK drag racing day
Place: Takaparkki, Hervanta campus
Tickets: free of charge
The fastest event of Wappu is here again! TTMK organizes a drag racing day on Korkeakoulunkatu behind Päätalo. The dragstrip is 200 m long (1/8 mile). The event will provide again amazing cars and motorcycles, as well as other more extraordinary vehicles. We will also have our V8 grill on the spot, which provides free sausage for
hungry visitors. Participating the event is free for the drivers and spectators. The event is open for members of
TTMK and TREY.
15:30-22:00 World Championship Tournament of Academic Beer Pong 2019
Place: Bommari, Hervanta campus
Tickets: 15€ per team
Legendary annual World Championship Tournament of Academic Beer Pong is the biggest Beer Pong tournament in Finland. It consists of 128 teams and the tournament is played with rules made by one and only Kristian Perälä. The
price is 15€ a team including the drinks for the games. The sign-up happens at the Facebook page of Joku Ankka at 15th of April at 12.00. Payment happens at Bommari before the tournament with cash and the afterparty tickets are also for sale.
16:00-23:00 UPI
Note: To get the Teemu stamp you don't need to
tour all pubs.
Place: Forgotten pubs in Tampere
Tickets: free of charge
Bosa is arranging the traditional UPI – the night of forgotten pubs. The idea of this tour is to see some pubs you wouldn't visit so often. You're welcome to join the tour and to enjoy the beers in varying locations! The refreshments
in the pubs will naturally cost something (with some Bosa offers), but otherwise the participation is free. Due to the locations' requests, overalls should be left home, but otherwise you can dress as you like. Come to join us and take your friends with you!
22:00-05:00 Suuret Wabu Juhlat
Place: Bar Panorama, Hämeenkatu 13
Tickets: 2,5/3/5€
The official afterparty of annual World Championship Tournament of Academic Beer Pong takes place at the new night club called Bar Panorama (old Naima). Tickets are sold at the tournament (2,5€ a piece if you play, 3€
otherwise) and at the club (5€ a piece).
12:00-17:00 Puistopiknik // Teemutour 16a
Place: Koskipuisto
Tickets: free of charge
Wappu Eve is around the corner, but there's Still some time to relax. Koskipuisto will be filled by students having picnic on the day before Wappu Eve. The park will be made cozy for the visitors with some stands organized by student organizations and partner companies. From the stands students can try different activities besides
the hangout with friends. Don't miss this one out and come to spend a nice afternoon. This event is
perfect preparation for the upcoming two days of celebrations!
13:00-17:00 Konttireivit/Party Container // Teemutour 16b
Place: Koskipuisto
Tickets: free of charge
PILE and SPINNI bring out the Party Container (also known as ''Konttireivit'') to the Wappu! The event is between 1-5 pm. Party sessions start at every half an hour and lasts 15 minutes. The event is free. There is dance music, party lights and epic atmosphere in the Party Container, so join in and let the party begin!
19:00-21:00 Dildobingo
Place: Tullikamarin klubi, Tullikamarin aukio 2
Tickets: free of charge
UDK ry's sensuous spectacle DILDOBINGO will arrive and fill in the gap in Wappu's event selection. The game is the good old-fashioned bingo, but the prizes are quite… different. Wink wink! The pleasureful prizes are sponsored by Maukaste. Dildobingo will be played at Tullikamari's Klubi on Monday 29.4.2019 starting at 7pm. The doors will open at 6pm. The event is free of charge. At the event, you can buy Dildobingo's official patch for three
euros with cash or with MobilePay. If you have a student card, you can also buy cheaper drinks at Klubi. Welcome to play Dildobingo!
14:30 Wappuradio ends.
18:00 WappuEscape ends.
12:00-13:00 The oath of Wappu// Teemutour 17
Place: Frenckell square
Tickets: free of charge
On this day, Wappu is finally among us. It's time to open bottles of something sparkling and raise a glass for our common nation's fest. Frenckell square will be full of happy celebrating people, when celebrations start together with the speech of the Chairperson of Student Union of Tampere University. At this event there will be pronounced
the official Oath of Wappu. After pronouncing the Oath, there is a permission for two-day celebrating all around the city. The whole city will stop for this moment, so you don't want to miss this one! After this, Teekkari union of Tampere will announce superfuksis and jäynäcompetition's fuksie league winners.
12:00-20:00 Kinkebar-march Vol X
Place: Vesilahti -> Koskipuisto
Tickets: free of charge
The event is the highlight of Per's Brewery's year and has been around since 2010. The purpose of the event is to bring the Kinkebar from Vesilahti Art Park to the Koskipuisto and serve a great deal of tasty home wine on the way and at its end point. You can join from the villages that we pass by, or you can join our group from Tampere.14:00
14:00-15:00 Minna Canth statue flowering
Place: Minna Canth Statue, Hämeenpuisto
Tamy ry kicks off the Wappu eve by taking flowers to the statue of Minna Canth- this time whit a little twist! We welcome you to join us in Hämeenpuisto on the eve of May Day on 30 april, when Tamy ry will be adoring the memorial statue of Minna Canth with flowers In the spirit of equality.
BYOSWB= Bring your own sparkling wine bottle
15:00-17:00 Chili party
Place: Kaijakka, Laukontori 12
Tickets: free of charge
MIK is offering spicy and cheap chili food for all Wappu celebraters! If the tasty food gets you thirsty, you can quench your thirst inside the restaurant for a student friendly price. You can receive the Teemu stamp by purchasing a spicy
chili meal or by participating in some material engineering experiments.
22:30-23:15 Declaring of Gambina peace 
Place: Old man's statue in Hämeenpuisto
Tickets: free of charge
In the midst of Wappu, it's good to have some peaceful moments and do it in a ruby-red way! The Gambina appreciation society is declaring the Gambina peace for the second time on wappu eve at 22:30 in the north end of Hämeenpuisto near the statues. In the event there will be speeches to the ruby-red God, crossdisciplinarity and Gambina. As the final spectacle the statues are given some red elixir of life after which the participants can enjoy some of their own elixirs, if they so want. In addition, there will be the biggest Gambina meeting ever at the event.
Welcome!
23:50-00:15 Teekkari capping
Place: Työväenpuisto, Konsulinsaari
Tickets: free of charge
It's time to take your teekkari cap from the closet. Teekkari Union of Tampere organizes the traditional capping in Konsulinsaari. You can follow the event in Työväenpuisto. You go there and out of there through the tunnel. The capping will occur on the night between April 30th and May 1st, beginning at 23:50. This will be the first time fuksis get to wear the teekkari cap. The event will be boisterous and if you want to keep your teekkari cap clean and
spotless, beware champagne showers. During the capping, teekkari hymn will be sung three times. On the first time, teekkari cap will rest on person's right shoulder. During the second time, teekkari cap will be held high above the head. Because of the restoration of Hämeensilta, the capping will occur at Konsulinsaari. You must leave the bridge empty and follow the event from the park. Remember to listen to security personnel and obey their requests.
07:00-07:30 Wappuwerryttely /Wappu warm-up// Teemutour 19
Place: Koskenranta
Tickets: free of charge
What could be a better way to start Wappumorning than Wappuwerryttely? TUrVoKe organizes Wappu warm-up exercise, which is not a killer workout but a nice workout to get the Wappuday started. Werryttely includes stretching
and warming up to make sure that everyone is ready for the Wappuday!
08:00-11:00 Aamusillis/Morning brunch // Teemutour 20
Note: You will get the Teemu stamp also from
the line!
Place: Ranta, Hatanpään valtatie 1
Tickets: 10€
After a long Wappunight everyone will surely be hungry! But no worries, there is a solution for this problem, and that is Morning Brunch at Ranta! This costs 10 euros, and you will get chicken wings etc.!
12:00-13:00 Fuksikulkue/Fuksi parade
Place: Streets in the centre
Tickets: free of charge
Technical students are on their way to Tammerkoski! Come and follow the parade and check out the härwelis that have been built by fuksis.
12:00-15:00 ESN FINT Vappu picnic
Place: Koskipuisto (Look for ESN FINT flag)
Tickets: Free of charge
If this is your first Vappu in Tampere, you're in for a treat! Every 1st of May the first year technical students from Tampere University get dipped in the water of Tammerkoski; it's something you really have to see to appreciate! We will be staying warm and dry as we have a relaxed picnic on the banks of the river, watch the dipping, and appreciate all the excitement of Vappu. There will be lots of students around, so grab your overalls and look for our ESN FINT Flag in Koskipuisto! We'll be providing snacks and a good view of the festivities!
12:00-13:00 Potilassänkyviesti/hospital bed race
Place: Koskikatu
Tickets: free of charge
Welcome to race with TLK in traditional Potilassänkyviesti, freely translated as hospital bed race. The race is carried out in small teams and besides speed also style matters, so while some team members are racing their patient on the street others are trying to keep the patient laying on the bed alive, with great style of course. Small prizes available for winners, welcome!
13:00-18:00 Teekkarikaste/Teekkari dipping
Place: Koskenranta
Tickets: free of charge
In the end of Wappu, all the technical students become teekkaris in the Teekkari dipping in Tammerkoski! Come to follow the event by the Tammerkoski.
20:00-04:00 Wapunkaato // Teemutour return
Note: Return of Teemutour from 19:00 to 22:00 from the door.
Place: Hullu Poro & Ranta, Hatanpään valtatie 1
Tickets: 4/5€
The best last party of Wappu is being held once more at Poro and Ranta on 1.5.2019 near the koski. Here you can cry a tear for your loved Wappuheila, compete in Kaljakellotus and finish your Wappu. This night will include extreme musical entertainment, fast beers and good old party feeling! Pre-tickets are sold for 4 euros, during Wappu by
the young and handsome sporrrty boys and girls wearing the always recognizable orange-black
striped shirts. Tickets are 5€ from the door. Don't miss out!