Municipal elections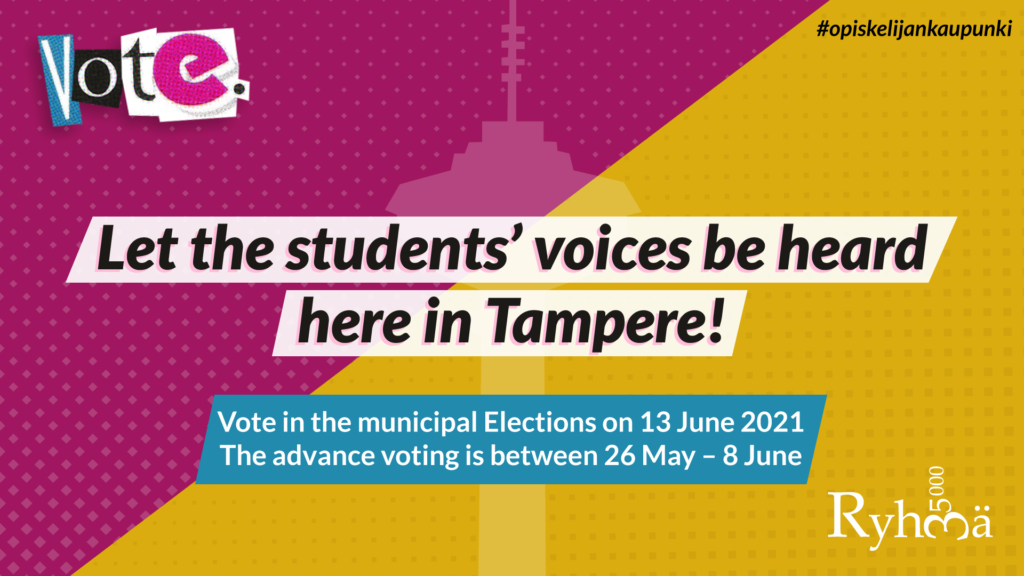 The spring's municipal elections will be held on 13 June 2021. The advance voting in Finland is between 26 May and 8 June and abroad between 2 and 5 June 2021. Then we have the opportunity to choose who represents us students in Tampere's decision-making. For us, municipal elections are, above all, elections representing grassroots democracy, in which the decision-makers who are closest to our daily lives are elected.
The council is the highest institution of the municipality, which exercises the highest political decision-making power of the municipality. According to the Association of Finnish Municipalities, the council has overall responsibility for the municipality's activities and finances, and it must promote the direct participation of local residents in the municipality's activities and decision-making. The council is the strategic director of the municipality, who drafts and outlines the municipality's future goals and objectives. Read more about the council's tasks on the Association of Finnish Municipalities' website.
The central role of municipalities in our daily lives cannot be emphasized enough. Municipalities will decide how to develop health care, day care and early childhood education, student services, street maintenance, basic education as well as sports and cultural services in the next few years.
Group 35 000 (Ryhmä 35 000)
About one in six of the citizens in Tampere are university students. Tamko (Students' Union of Tampere University of Applied Sciences) and TREY's joint group, Group 35 000, upholds the students' voices in urban advocacy. The group's name indicates how many students there are in Tampere. More information can be found from the Group 35 000's Facebook page.
The students are a significant part of Tampere's image and because of that, the goal of Group 35 000 is to make the students' voice heard in the decision-making of the city and to improve the status of students in Tampere. You can find information about Group 35 000's advocacy accomplishments on TREYs website.