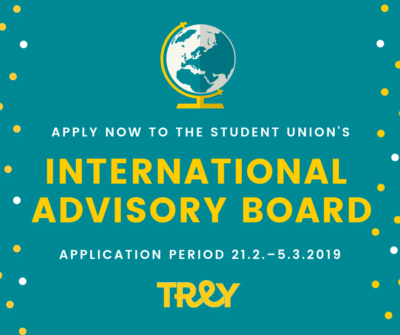 Are you interested in making students' everyday life a little bit better? Do you want to learn more about advocacy and policy-making? Are you willing to promote things students find important, such as quality and affordable education, accessible student services and internationality? If you're an international student in Tampere and you said 'yes' to any of these questions, apply to the
INTERNATIONAL ADVISORY BOARD
As a member of the international advisory board, you can get involved in e.g. planning campaigns, participating in workshops, meeting university lead, writing statements and organizing events. The student union is active e.g. in educational affairs, international affairs, social policy, and municipal affairs.
The international advisory board will have meetings approximately once a month.
In short, in the international advisory board, you'll
– Learn a lot about advocacy work and how's
– Have a chance to influence what the student union does
– Meet lots of new people
You're the right person to apply to the advisory board, if
– You consider yourself an international student
– You're a member of the student union (i.e. you study in the Tampere University)
– You are motivated to commit to the International Advisory Board until December 2019.
You can apply here until the 5th of March. The members of the Advisory Board will be chosen on the 7th of March and all applicants will be contacted after that.
If you have any questions about the International Advisory Board, please don't hesitate to contact max.liikka@trey.fi
TREY is an advocacy and service organization of the students of Tampere University, founded in 2019. Each student studying for a Bachelor's or Master's degree at the University is a member of TREY. In total, TREY has approximately 18,000 members. Together all of us form the student union – TREY.