Biggest Remote Wappu in Finland!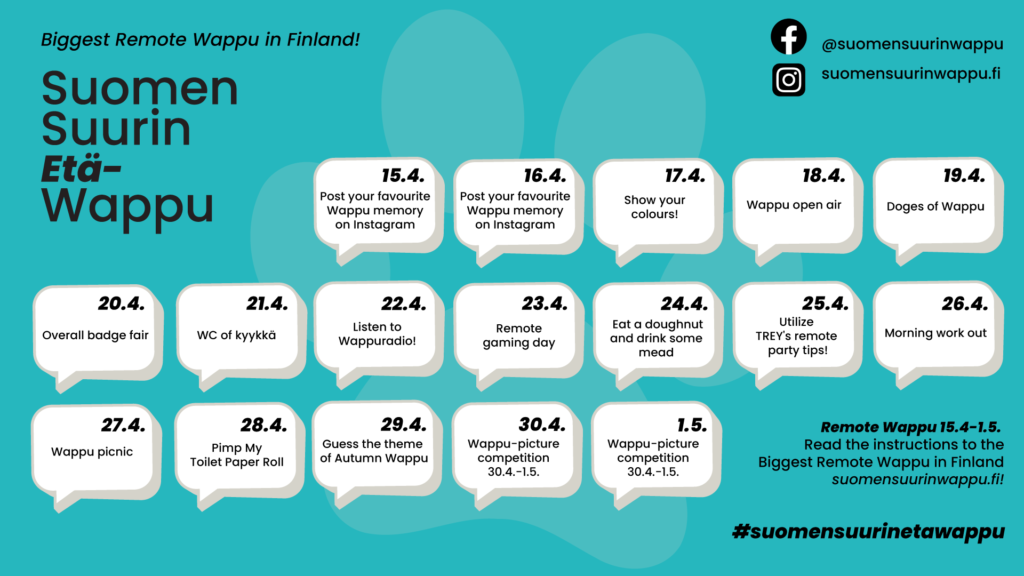 Biggest Remote Wappu in Finland is here! Follow @suomensuurinwappu on Instagram and Facebook and remember to use #suomensuurinetawappu when posting your pictures!
15.4.-16.4. Post your favourite Wappu memory on Instagram
Remote Wappu is here! Share your best Wappu memory as a video or image! The best image/video wins 20 € giftcard to S Group. You can apply on 15th to 16th of March and the winner will be selected among the pictures with the tag of @suomensuurinwappu and hastag #suomensuurinetawappu.
17.4. Challenge: Show your colours!
Today is time to show your colours! Wear your overalls, association's shirt, club's beanie or college that matches your guild's colours.
18.4. Challenge: Wappu open air
Balcony open air has already been proven as a great concept through Central Europe. Today is the moment when students of Tampere join in the fun! Although Tupsula's open air concert can't be visited this spring, we can get the open air vibes at home! Tune in, set up your speakers and play a song which will be announced later from your own balcony at 17 o'clock! Don't forget to share your experience to @suomensuurinwappu!
19.4. Challenge: Doges of Wappu
Doges of Wappu is here! Share picture of your pet (or another cute animal picture) to cheer up everyone's day!
20.4. Challenge: Overall badge fair
How to recognize a student on the street? By their overalls, of course! This staple item of clothing is covered in badges and now we are challenging you to share your favourite badge! It's ok if you haven't found time to attach it yet, no worries. Remember to tag @suomensuurinwappu – we will share the best ones in our story!
21.4. Challenge: WC of Kyykkä
Today is the time for sports! Let's play Kyykkä – but let's also change the location and equipment. For this challenge, show how to play Kyykkä at your home and utilize toilet paper while doing it! Make sure it's still usable after the games – you wouldn't want to waste this scarce commodity. You can also use other items to perform this challenge, but make sure you won't break anything!
22.4. Challenge: Listen to Wappuradio!
Now is the time to tune into Wappuradio if you haven't already! The organising team of Wappu will share their greetings from 17 to 19. Head over to listen to this or any other broadcast and join in on the Wappu celebrations.
23.4. Challenge: Remote gaming day
It's time for video games! Today we challenge you to play something with your friends. If the idea of video games puts you off, you can try free-to-play games through a website or come up with an own idea to play something remotely! You can choose the game yourself – whether it's Chess or Counter Strike, that's up to you.
24.4. Challenge: Eat a doughnut and drink some mead
The greatest challenge of all is here. Are you able to complete something others only dream of? Are you the one who can really eat a doughnut without licking your lips? Find out and tell us @suomensuurinwappu. Pair the doughnut with some traditional mead!
25.4. Challenge: Utilize TREY's remote party tips!
Saturday and time for a party! Head off to TREY's remote party tips -news article and use the advice to arrange your own party!
26.4. Challenge: Morning work out
Start your day with some sports! Head outside to run or walk or motivate yourself to do some exercises at home. Show us with pictures how you exercised today and remember to tag @suomensuurinwappu
27.4. Challenge: Wappu picnic
Grab your picnic blanket, take your basket and… head to the floor of your living room. Or the balcony. Post a picture of your home picnic and get ready for the real picnic in the autumn!
28.4. Challenge: Pimp My Toilet Paper Roll
Honoring traditions, today is time to pimp your gri… no – your toilet paper roll! Pimp your toilet paper roll to match the Wappu spirit and share it with us!
29.4. Challenge: Guess the theme of Autumn Wappu
Remote Wappu has gone for weeks already, but it's not over yet! In the beginning of the new semester you will get to celebrate the first Autumn Wappu ever. As usual, the theme and contents of it are still top secret and will be revealed closer to the start of Autumn Wappu. However, today you will get to guess the theme! Comment your guess to a post that will be announced later. If you guess it right, you will get fame and fortune – but only after the reveal in Autumn!
30.4.-1.5. Competition: Show us on Instagram how you celebrate Wappu!
The Eve of Wappu is finally here! In the following two days we'd want to see how you celebrate Wappu from home. Share a picture or a video of your celebrations. Put on your overalls, grab some sparkling or mead, find some paper streamer and get on your Wappu mood! The best picture or video will be awarded with a 20 € gift card to S-group, so give it your best shot! You can apply on 30th of March or 1st of May and the winner will be selected among the pictures with the tag of @suomensuurinwappu and hastag #suomensuurinetawappu