Welcome to Tampere University and to the Student Union!
TREY's Fresher's Guide 2021-2022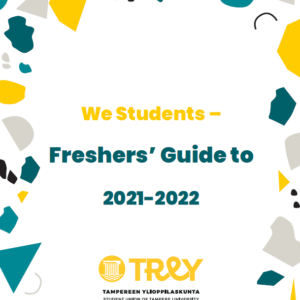 We have created a fresher's Guide for you to get started with your new studies. The guide includes the most important issues to consider, when beginning your studies at Tampere. You will learn the key information about living, health services, public transport, events, clubs for students and lots of more. Open the Fresher's Guide below.
TREY Fresher's Guide 2021-2022 (.pdf, 5 Mt)
Get to know with our information concerning quarantine time, too:
How do you manage to survive a quarantine time_(pdf., 641kt)
Before you begin your studies
Tampere University has put together a collection of links and important information to help you with the start of your studies. The checklist includes pre-arrival information, tips to starting your studies here and information on living in Finland. You can find the of important links to Tampere University students on the University's website here.
The Student Union
The Student Union of Tampere University (TREY) consists of 18,000 members studying in Tampere University. TREY supervises the students' interests, assists student associations, provides member services and builds our community. All of us constitute the student union. You can find the instructions on becoming a member on the membership page here. On the Associations page you can see which subject association is yours and find new hobbies and clubs to join!
Through TREY's membership, you are also a member of the National Union of University Students in Finland (SYL) together with all the other degree students in Finnish universities.
TREY's office and service desks
TREY's office is located on Hervanta campus, on the 1st and 2nd floor of the main building. TREY's Executive Board and most of the staff work there. Student cards and member services are provided through TREY's service desks. On city centre campus, the service office is located in room E213 in the main building. The service office in Hervanta is situated on the 2nd floor of the main building. Student cards can also be collected from TLK's office on the Kauppi campus. The opening hours of service desks can be found on the Opening hours page here.
Newsletter, Telegram-channel & social media
The Student Union's newsletters are sent via Mailchimp. Subscribe to the newsletter on Mailchimp's subscription page.
Follow the student union on social media @treytampere!
We communicate matters concerning all students via our open Telegram information channel! The Telegram information channel communicates current issues of the Student Union and it will also support the University's communication of, for example, coronavirus instructions and other themes concerning the entire community. You can join the information channel via this Telegram invite link! Telegram is an instant messaging application that can be downloaded for e.g. Windows, Mac, Android, and iOS. Telegram is in active use in many associations operating within TREY. TREY's Telegram information channel is managed by TREY's communications sector, which you can contact viestinta@trey.fi.
Student tutoring and COVID-19
Each new student is assigned a student tutor in Tampere University. Tutors are usually more experienced students of the same field whose task is to introduce you to your studies, the practicalities of studying in a Finnish university as well as student life and the community here in Tampere. Your tutor will contact you during the summer to introduce themselves and to ask you about your arrival plans. Due to the ongoing COVID-19 situation, please tell your tutor about your arrival schedule. You will meet your tutor once you arrive in Tampere.
It is important to follow the University's guidelines and instructions regarding the COVID-19 situation. These can be found on the Student's Guide and we have also gathered many of the instructions on our website. See TREY's coronavirus FAQ in a TREY news article here.
Student tutoring is organised jointly by the university, the student union and subject associations. If you have any questions regarding your tutoring, please contact TREY's Specialist in Tutoring. The contact info for all TREY officers can be found on the Contact page here.
Healthcare during your studies
If you are studying to get a degree from a Finnish university
The Finnish Student Health Services (FSHS) is an expert in student health care and, as a student in higher education, provides you with general health, oral health and mental health services and promotes the well-being of study communities. Read about services from yths.fi web pages.
You can use FSHS services during the fall semester 2021 in case you are studying for your bachelor's or master's degree and you have paid the health care fee to Kela.
Your need for treatment will be assessed before booking an appointment for FSHS services, read more https://www.yths.fi/en/using-services/booking-appointment/. Contact information and opening hours of our service units can be found on our website https://www.yths.fi/en/service-units/.
You can also do business with FSHS online and remotely. Self is a student's own online service through which you can maintain your contact information, manage appointments, chat, or arrive at a remote reception. Read more about Self yths.fi/en/self-info and log in as a user right at the beginning of the study year.
The health care fee for students in higher education is paid to Kela, and FSHS provides health care services to students. We do not charge a service fee for receptions. Learn more about service fees here: https://www.yths.fi/en/using-services/service-fees/
Read more abot FSHS services from FSHS website behind this link or visit TREY's healthcare page here.
If you are an exchange student in Finland
Exchange students are not eligible for FSHS care from January 2021 onwards, and must use municipal or private healthcare services. More information about this is offered in Fresher's Guide 2021-2022 in the beginning of this page.
Housing
The students of Tampere have various housing options from proper student flats to open market studios and shared flats with friends. You should start looking for an apartment as soon as your place at the university is confirmed. You can usually get a shared student flat the fastest because the lines are shorter. For more information on the different sources that provide housing in Tampere go to TREYs website here!
Income
Check out Kela's website here to see, if you are entitled to financial aid. The financial aid consists of a study grant liable for tax, government guarantee for a student loan and student loan tax deduction. The qualifying conditions for student financial aid are full-time studying and academic progress. You can apply for financial aid online in Kela's eServices. The aid is granted for the whole degree at once in nine-month periods (from 1 September to 31 May). You must apply separately for the summer months (from 1 June to 31 August). For more information you can also visit TREY's income-page here.
Transportation in Tampere
The buses of Tampere regional transport, Nysse, will take you around town easily. We suggest you get yourself a travelcard right away! You can get a personal travelcard, which enables you to use youth and student discounts, if you have a Finnish social security number. If you don't have one, you can obtain a holder-specific travelcard and travel at regular prices. You can also cycle your way around the city and the possibilities for cycling are improved all the time. What's more, the new Tampere tram system starts operations in 2021, making buzzing around town faster and easier!