450 participants, 24 different workshops, 500 screens and 40 instructors and technical secretaries. These are some of the ingredients that helped create the Associations' Kick-off, a training event of the Student Union of Tampere University for associations, which was held on Wednesday of this week. This year, the event was held remotely due to the pandemic, which was an interesting experience for me as I got to organize a remote event for the first time.
Associations' Kick-off is a very important event for three reasons in particular. Firstly, it offers the Student Union the possibility to provide information and good practices to the one hundred and fifty associations which operate within the Student Union. The event is at the moment the only one that reaches broadly all the board members of the associations. This time workshops were held on both themes that are very specific to certain tasks and those that offer a more profound perspective on association work.
The other important function that the event has is its role as a bridge-builder and link between associations and the Student Union. In the workshops, it is possible for us to hear what, on the one hand, works well in associations and what, on the other hand, are the areas that we could offer more support and tools on.
Thirdly, at the event, association actives get to meet each other which is something that many participants appreciate. Getting to know new people and receiving peer support is very important, because at the event, the actives often get acquainted with people who are responsible for the same tasks in their associations. Moreover, the participants teach each other a lot by sharing experiences and good practices from their own associations and every participant is integral for the success of the event.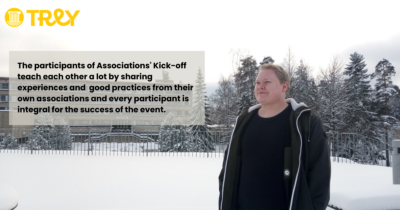 Associations' Kick-off is only a part of the training and support that the Student Union offers associations. We regularly organize training and meetings for different association actives and update our material data bank in which you can find material that is useful for associations. You can always contact us for help or training, we're always happy to help. In addition to this, according to the action plan of 2021, we'll deal with these themes in the project TREY <3 Associations in which we'll create TREY's own guide for association actives as well as improve our association training in general.
Organizing the event took a lot of effort and that's why I'd like to thank all the participants, instructors and technical secretaries for a successful and great event. Moreover, a special thanks goes to the great organizing team between which we, starting from August 2020, reflected upon different ways on how to make the event a stellar one and how different training would best benefit the associations as well as debated over which animal would be seen in the overall patch this year. Thank you Lauri, Salla-Mari, Iiris, Julius, Mari and Saana.