I still vividly remember the autumn of my fresher year. Everything was very exciting, moving to another city brought both joy and stress, and finding a flat proved to be a project itself. When I found a room in a shared flat, I was more than happy because I believed I would find new friends and company for exploring Tampere.
My expectations for a shared flat with multiple people were not met quite as well as I had hoped but I am still genuinely happy that I started my student life in one. It taught me to respect mine and others' boundaries when sharing a flat and to keep common areas clean. Even though my room in the shared flat was mostly a place for me to sleep during the time I lived there, I was baffled by how familiar and safe that room had become. A room had almost turned into a home already.
I moved within Tampere for the first time in the summer between my first and second year of studying. I had moved up in the one-room flat queue so much that I could move into one. One room turned into a one-room flat and the increased freedom to invite people over and have guests sleep over was intoxicating. I could even furnish my one-room flat, which I hadn't been able to do so much in my room in a shared flat. The move started a period that lasted for one and a half years during which my small one-room flat became more and more dear to me until another situation in life broke us apart. That home I still miss, and that joy of autonomy.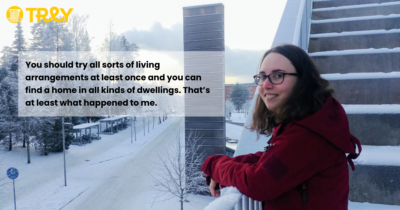 Once again, it was time to move. To keep count, one must state that this was technically two separate moves although one was just a brief stop before a longer journey. Most of my furniture went to storage to wait for me to come back from an exchange semester in Spain during which I once again got to experience the ups and downs of living in a shared flat. However, even then I was happy that I did not need to live completely alone in a foreign country and instead got company from flatmates. Returning to a shared flat after learning to live alone was a slight culture shock but also a refreshing change and again a reminder how to live in a common flat.
We arrive at the last set of moves (for now). Here the stop in the middle was a little longer so one can say it was two moves for real: first temporarily and then semi-permanently. Managing queuing for flats during my exchange semester was less straight-forward than I imagined so I remained in queue for a few months after coming back to Finland before a more permanent move. All's well that ends well and after five moves or so in total (depending on how you count them) we are finally here.
Now I've lived in my current flat for over two years. Longer than in any previous address during my studies. There have been many kinds of flats on the way ranging in stay and size that have served as more or less a home. Every single one still holds a lot of memories, and all have provided me with learning experiences. When someday the time will come to leave student housing behind when studies eventually end, I will probably remember these times for a long while. I guess the moral of the story is that you should try all sorts of living arrangements at least once and you can find a home in all kinds of dwellings. That's at least what happened to me.
– Emmi, TREYs Board Member