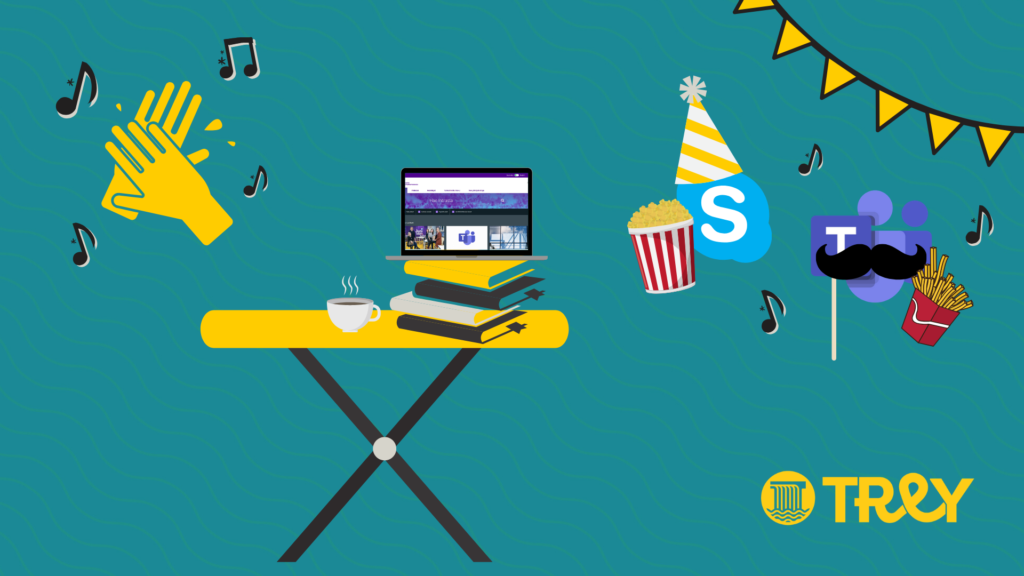 Now that the most of Finland is working remotely, it's good to take care of your mental well-being and relationships! It's most important that we all follow the instructions given by the authorities, so that the pandemic will blow over and we all remain as healthy as possible! It's especially important to avoid socialising when you have any symptoms because that way, you protect not only yourself but other people, particularly those in high-risk groups.
So how to maintain relationships? Now is not the time for parties, but for remote parties! We will now share some good tips on having remote fun and inventive ergonomics for studying at home!
Make the most out of remote parties!
Good remote parties can be organised in several ways:
1.  Pick a platform that your friends can use. Good options are:
Microsoft Teams: Everyone has access here with the university email!
Skype
 Zoom
 Discord
2. Send an invitation to the participants on time and share it in appropriate channels.
3. Make sure you have good party snacks at home (that you can then crunch on in your friend's headphones).
4. Think of good remote party activities in advance. Good examples are:
Truth or dare (truth or truth works better)
Pictionary! Everyone can play Skribblio on their own computers and you can pick the words for the game
Make use of video connections to e.g. play board games
5. Dress up in an appropriate outfit, whether it's the PJs you've been in for days or a comfortable party outfit for hanging out at home. Pyjama bottoms and a fancy top are a winner combo!
6. Arrive to the party on time (or if it's your style, fashionably late).
7. Enjoy your friends' company in an epic remote party!
Take care of ergonomics – even at the home office!
Many alternatives exist to promote ergonomics in a home office. You should share your best tips with your friends! Working while lying down on the couch or in bed will cause discomfort and pain in the long run, so pay attention to your working position. Good examples of solutions that support well-being in remote working are:
Make a standing desk of an ironing board! The height is already adjustable, how handy!
 Stack books to reach a good height for working standing up
At a home office, it's easy to pause studies for a moment and work out! E.g. YouTube is jam-packed with good videos. Spontaneous dancing among studies is also recommended!
Good hang hygiene is the be all and end all of everything!
During these times, it's crucial to remember to wash your hands often. Hand-washing moments become a lot more fun when you add to the ritual a fun song that has a 20-second chorus! Here are some well-tried examples:
Rick Astley – Never gonna give you up
Bee Gees – Stayin' alive
Erika Vikman – Cicciolina
Itsy Bitsy Spider – well-known classic!
Let's keep a good vibe going and remember to take care of our own and others' well-being. We can get through it together! #together #forward