January is the season of "started working at" posts in our Facebook feed.
Our new board members start their everyday business in TREY's office next Monday. During this week the new members of the working community have familiarised themselves with their coming duties, and the open office has stayed half-empty and quiet while the staff and board members have gotten ready to work with each other.
On the first day we encountered our first challenge: the world around us did not stop while all our ten board members changed. This means that emails and messages are piling up, and still we need to provide a proper induction for the newcomers. Last year when I was starting my student union career, I was so excited about my new job that I stayed in the office until late evening to clear my mailbox. This is why my first advice for the board was: there is nothing that could not wait until tomorrow. There is no need to respond to all messages during the same day, not even tomorrow. The rumour has it that also staff members have told the newcomers to leave the office in the evening. Tomorrow is another day.
So, in case anyone of you have dropped me a message this week, I will get back to you next week. Now the plans for the coming year and the new board have my full attention and I will go home after the working day – and I am not opening my mail on the home couch.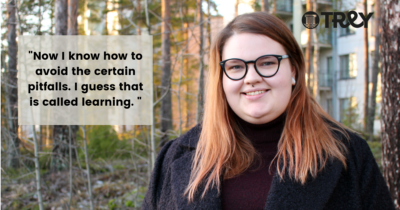 Are you sometimes so tired after your study/work/association duties that you do not have energy to do anything else? It was priceless to see the faces of my new board when I told them that after the working day they need to have energy for their hobbies, friends, everything that is fun. Still very few do, especially those familiar with the student association life. I am thankful that this work does not require me to answer mails late in the evening or on weekends. Nobody needs to be available 24/7/365, or do you think so?
I did not make any New Year's resolutions, but there are certain things I will do better this year. I survived my first student union year and now I know how to avoid the certain pitfalls. I guess that is called learning. I do not promise but I will try to sleep more and say "no" to extra tasks that sound like fun but will cause anxiety and keep me awake at night when the deadline is approaching. I think each of us could seriously ponder if we have learned from the past or are we just repeating the same mistakes year after year.
For those of you who actually made New Year's resolutions: be kind to yourself. Promise that you at least try, like I do. "21 days makes a habit" is an urban legend and not true at all (but 18-254 days gets you there, at least according to the Brits).
Yours truly,
Annika, Chair of TREY's board, who promises to try.
PS If you do not have a minor yet, try studies of leadership and work wellbeing. You will learn things related to your own and your community's wellbeing!