Sometimes on Monday afternoon it feels like you have already worked for the entire weeks' worth. This fall those Mondays have been more frequent than normally. It is not just the normal fall haste, but it is the fact that I have been mainly working alone from home since March. Although I know I'm lucky that I have a job and I can do that job from home and take care of myself, I do feel the loneliness that many students at our university feels.
Studying and working distantly have been day to day activity at the university for a while, but it has had an affect on our community. The teachers must update their courses constantly so that everything can be done via Zoom etc. Student community must change it's ways of organizing events, group learning and meeting friends. Our day to day life has changed and during these times of self-isolating and distance studies, it is no wonder that many students feel loneliness. Especially now that campus areas have restrictions, and it changes associations' normal life and the event organizing has been on a constant stage of change during these times.
Feeling of loneliness added to working or studying distantly can be exhausting. Normally at the office I can just turn around and find someone to talk with and brainstorm about things. Now we need to schedule these meetings in advance. Even though this is a really small problem and relatively easy to solve with the systems and conversation apps, it still adds to other problems. This problem about having no one to talk to is probably common with people and if someone has a better solution to this, I am all ears. What I have done during distance workdays to help my loneliness is gather some stuffed animals, give them nametags, and talk to them just like they were my colleagues. Yes, I am getting little crazy and sometimes the walls feel like falling on me, but at least during these meetings no one will object my ideas.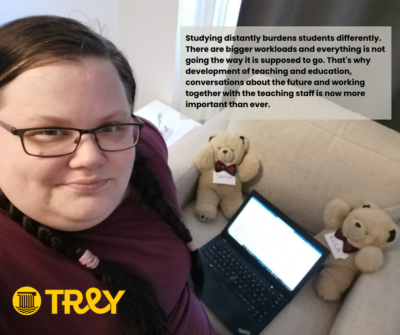 This corona-time has also affected the activity of volunteering, association work and advocacy work at University. I have seen this weakening of activity in fall during the student representative search. There were clearly less applications, and this is part of the reason why not every place in the committees and other organs were filled. Studying distantly burdens students differently and we understand this. There are bigger workloads, assignments can be difficult, and everything is not going the way they are supposed to go. Development of teaching and education, conversations about the future and working together with the teaching staff is now more important than ever. Now is the moment when we need active student trustees to work for the whole community.
Student advocacy work, like student representative work, is not always the most rewarding thing. Many times, student representatives do so much work when they go through meeting materials and gather information from other students and the Student Union, and all of this while dealing with their own studies. Their tremendous workload is probably the reason why it is so nice to hear the experiences of student representatives and what they have learned during their terms. These are some of the things why I love coordinating the student representative work in the Student Union. Working with these student representatives is important for the Student Union because their visions and experiences bring us new viewpoints. I would like to thank every student representative that has worked during this term and helped us with the student advocacy work. In January a new term  starts and our new student representatives have big shoes to fill but I believe that they can do it. We are going to start the supplementary search soon and I hope that we find more new student representatives.
We have gone from working distantly to cabin fever and from there  to student advocacy and student representatives. Before this blog ends, I would like to say that working distantly has not been easy for most of us and while we have no idea when this is going to get better, do not give up. Our student community seems like a group that can find new ways to make even this difficult situation work. This year is ending soon, and new people start to appear on the game fields. These people bring fresh ideas on how to develop our situation. Even though we have new people in associations and advocacy work, please continue to take care of yourself and people around you.