Walking outside one can already feel a certain biting wind. Most take it as a sign of an approaching winter. However, I cannot help but think of one thing and one thing only when I feel it—a change of power. The season of autumn meetings is coming.
Whether you call it an annual meeting, a general assembly or a general meeting, the autumn meeting is the most exciting moment of the year for many association enthusiasts at the University. In this text, I use the term autumn meeting, but you can replace it in your mind with another term that suits you better.
The soon to be November is the promised time of these meetings. Whispers carry from association facilities and zoom calls. Will that person apply for another term? This person marked themselves as interested in a board info event on Facebook, I wonder what responsibility they are applying for? Does this person's council elections campaign hold a deeper meaning?
Why are autumn meetings/general meetings so interesting then? There you can influence the community's activities in a very concrete way, for example, through the action plan or the budget. In addition, organiser selections are interesting and sometimes even dramatic. I at least have a big emotional bond with knowing who will make decisions in a community that is important to me. Additionally, elections can be very close and, for me, running as a candidate has added extra excitement to them.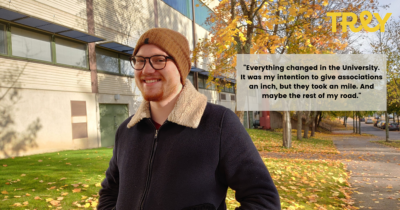 So, since my fresher year, I have been addicted to following autumn meetings. This is a little strange since, before starting at the University, I had never been in a position of responsibility or been very interested in them in general. My highest achievement was basically a participation trophy for being on the junior football team of FC Haka. Everything changed when I came to the University. My intention was to only give association activities an inch, but they took a mile. Possibly closer to 500 miles. Or a thousand miles.
I was thinking about not running for any board next year, which feels a little strange. Next year would be the first one in my five-year university career when I did not have any board responsibility. I will still work for the university community and my subject association, but I will take a break from boards and give time to my dear nemesis, Bachelor's thesis.
I always recommend attending autumn meetings and possibly even applying for a board if the thought sparks any interest. This university community most certainly has an association for everyone to participate in! This time of life is an excellent time to find friends and rewarding things to do as well as receive useful experience. Personally, I am fairly sure that I was selected for one internship purely based on my positions of responsibility. (If you were wondering what association to get acquainted with, check out the Associations operating within TREY page, if you're interested in association activities!)
Also, remember to be human to each other if you decide to run as candidates. As I described before, organiser selections in autumn meetings are sometimes close and everyone is not necessarily chosen for a position they would have really wanted. Running as a candidate is already a big step for many, so remember to respect everyone who decides to go through that.
Aleksi Niemi, member of TREY's Executive Board who comes in running when there is a change of power.