I've sometimes heard said that every student should live as affordably as possible in shared apartments. For many students, shared living is a comfortable and affordable choice to live communally during their studies, but not all students fit in the same mould. Students have several requirements for housing. For example, some might already have a family of their own or their health might set certain demands for housing. Additionally, building trends have changed. For example, after hearing feedback from students, there are plans to build small studio apartments with kitchens and bathrooms and with shared living rooms in the new TOAS Hippos building, which is currently under construction. (For now, the building's webpage is only available in Finnish)
As we're moving towards parliamentary elections, there have been discussions on renewing the general housing allowance or even returning students to the previous model based on a housing supplement to student financial aid.
Up until 2017, the housing supplement to student financial aid was a form of aid tied to receiving student financial aid. You were paid a maximum of 200 euros per month, regardless of your place of residence and amount of rent. Having the housing allowance linked to student financial aid was problematic, as not all students qualify for financial aid, and most don't receive it during the summer. Additionally, the amount was smaller than with the current housing allowance system. We must also take into account that, according to Nyyti ry*, over half of students are stressed about income. So, if we want solutions to the mental health crisis, student housing should not be an opportunity to pinch pennies.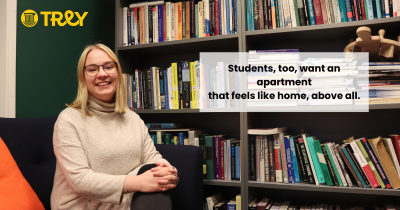 When talking about student housing, we must also take into account the effects of distance and online studies. A small shared or studio apartment is hardly ideal for distance learning, as the apartments often can't fit a proper, ergonomic workstation. I, myself, have spent the last four and a half years living with another person in a studio apartment, so our workstations have been either by the kitchen table or on the sofa. This is how student housing is also linked to campuses and their development. Students need new spaces suitable for online learning for both silent studying and even, perchance, unmuting their mic during an online class.
In summation, in developing student housing, we must keep in mind the diversity and diverse needs of students. Students, too, want an apartment that feels like home, above all.
Written by Julia Malvikko, a member of TREY's Executive Board.
*Nyyti ry is a non-profit organisation focused on supporting students' mental wellbeing and ability to study. More info on their website.