Are you an international student studying in Tampere? When you came to Finland, did you hit barriers because essential information was only available in Finnish? What was the effect on how welcome you felt in the new community?
TREY's core vision is to be a diverse, international and culturally rich community where everyone feels welcome. This is stated in the strategy and is advanced by many big and small efforts that the student union crew tirelessly works on every day. An international community at its best doesn't only help those that come here from elsewhere but it's a space where we can all broaden our worldviews and open our doors to original ideas, new knowledge and fresh approaches. This community isn't built if international students don't have access to information in a language that they understand. This is why bilingualism is an essential part of student union operations.
Bilingualism in an organisation of this size doesn't happen with a snap of anyone's fingers, as it requires nearly all student union content to be translated. That is why it's so mutually beneficial that TREY provides translation students such as myself with the opportunity to do this work. TREY hires translator interns twice a year for three-month periods. I've been doing this work for about a month now and the variety of texts I've translated (and new things I've learnt about!) is already huge – lists of decisions, blog texts, action plans, statements, budget justification memorandums, website pages, social media posts, emails, video subtitles…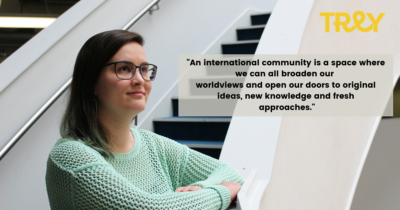 In addition to this, I've spent many hours editing the website and working on terminology. Luckily the previous interns have done excellent work to promote the cohesion of TREY's English vocabulary by creating TREY dictionaries that the whole student union crew can use. For our non-Finnish-speaking audience, it's not only important that we communicate understandably but that we use the same words for the same things consistently. If we talk about educational affairs and academic affairs in different places, is it clear we are talking about the same thing? What if the words we use for things like subject association and curriculum vary from place to place? Word choices can't always be set in stone and need to be continuously refined, but our international audience deserves the access to clear, cohesive information as much as Finnish-speakers do. After all, many of those in our international audience are TREY's members and we also advocate for their interests.
In addition to just being an audience, we aim to provide international students with opportunities to actively participate in the student union. For instance, did you know that last autumn the Council of Representatives approved a budget for interpretation in the council meetings? In the future, council members and deputy members whose first language isn't Finnish can get the meetings interpreted into English. This is not only an act of inclusion but will likely provide interpretation students with great opportunities to practice their skills! The international affairs sector also has it in this year's agenda to come up with strategies to better include international students in student union bodies, including the Executive Board.
In the context of our student union, the inclusion of international students indeed heavily lies on the use of English. Of course, "international" doesn't really equal "English". Over 7,000 languages are spoken in the world, out of which English isn't even the biggest one. But we live in a reality where English is the current lingua franca and with it, we can reach most if not all of our audience. That's why the student union will continue developing its bilingual communications.  When we interns are not in the house, this work is done by the staff and board members themselves. The work started long before I came along and continues after I leave in April, but I'm just glad I get to be a part of it for this short moment.
– Irena, TREY's translator intern