Last week the Organisation for Economic Co-operation and Development (OECD) published a country report on continuous learning in working life in Finland. Among other things the report draws attention to one of the most fundamental problems in our education system: there are great inequalities in access to continuous learning. People with higher education participate in continuous learning during their career significantly more often than people with vocational qualifications or basic education.
The inequality in continuous learning is a problem as such. What makes the situation even more severe is that our labour market is changing and adults with lower education find themselves in a vulnerable position. New jobs that are created demand higher skill levels. Jobs that require mid-level skills are disappearing most rapidly. Jobs with low skill levels are also created but primarly to the service sector with low income. At the same time the best paid low skill jobs are vanishing. However, those who would most need continuous learning in order to keep their jobs and income level, participate in education the least.
Increasing the learning participation of adults with low skills should be our key focus in the coming years. Reaching this objective requires several simultaneous activities from the Finnish society. In the report OECD recommends strengthening the capacity of employment agencies to provide guidance to unemployed and recognise their skills and development needs. OECD also recommends developing tailored education programmes for the low skilled. In addition there should be more opportunities to free continuous learning and more flexibility to combine studies with working life or different forms of social security. At the same time it should be ensured that people in working life have the right to update their education through their careers.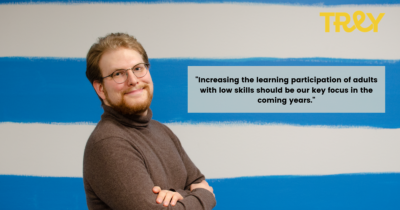 In the publishing event of the report, OECD's recommendation to introduce short-cycle tertiary education caused the most conversation. In practice this would mean that higher education institutions would offer studies ranging from 60 to 120 study credits. Without judging whether this kind of reform would be good or bad, the recommendation as such is a sad example of how our education system is too obsessed with degrees. For those, who are already in the working life or who become unemployed during midlife, taking an entire new degree might seem a time consuming and arduous task. It would make more sense if higher education institutions would offer continuous learning consisting of smaller study units for both employed and unemployed. These study units could also be offered to those who do not yet have a tertiary education.
For understandable reasons, OECD's report focuses only on continuous learning needed for the working life. However, when we are discussing continuous learning, we should remember that education also has an intrinsic value. Working life is not the only sphere in the society, which is changing rapidly. Our society faces enormous changes and challenges, not least because of climate change and technological development. In this situation upskilling for the purposes of working life is not enough but also active citizenship, comprehension, empathy and learning skills need updating, thus, continuous learning. In this work the universities should play an important role.
– Ville, substitute for Specialist in Educational Affairs