From 20th to 26th March 2023 is the week against racism. During the week, the Finnish Red Cross encourages everyone to recognise and stand up against racism. The Red Cross website says: "Nationality, skin colour, ethnic background, religion or other factors should never influence the way someone is treated and the opportunities afforded to them by society." Read more about the week against racism on the Finnish Red Cross website.
The University and the student community aren't exactly living in a daydream – racism occurs here, too. This is also evident in the results of TREY's equality survey, conducted in 2021. Students have experienced racism in teaching, student activities, and in the Student Union.
14% of respondents to TREY's equality survey said they had seen or experienced racism in teaching or in University facilities. 5% agreed with the statement completely and 9% agreed somewhat. According to the survey, University staff have told racially inappropriate jokes and comments in University facilities or in teaching. Racism has also appeared as prejudices and in course materials.
Out of all the survey respondents, 11% completely agreed with the statement: "I have encountered or noticed racism in student activities". In this question, student activities were defined as "the leisure activities of students, association activities, student events". In the open answers, students said they had encountered racism especially in sits party singing culture, jokes among students, and people's speeches. While respondents were aware of the prevalence of racism even if they hadn't experienced it themselves – some defended racism as simply telling harmless jokes, being well-intentioned, and being drunk.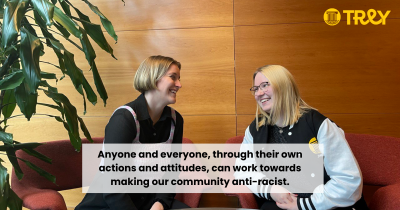 Even the Student Union isn't completely free from racism. According to TREY's equality survey, 2% completely agree and 3% somewhat agree with the statement: "I have encountered or observed harassment or discrimination in the activities of the student union (institutions, events, etc.)". According to the open answers, racism appears in the Student Union as racist humour, in sits party songs, and as a discriminatory atmosphere.
Based on the survey answers, it is clear that we still have work to do towards eradicating racism. The Finnish Red Cross has some tips on what we can do:
I will try to recognise my own preconceptions and change my views if necessary.
I will try to affect the attitudes of individuals and society as a whole through my own actions.
I will be aware that experiences of discrimination can vary.
I will intervene if I witness any racist incidents or hate speech.
I will listen, get training, and learn.
Anyone and everyone, through their own actions and attitudes, can work towards making our community anti-racist.
Written by TREY's board members Aino Halinen and Julia Malvikko.
Translated by TREY's translation intern Emma Brown.