More than 3000 freshmen started on Monday and are being guided by more than 900 tutors. The orientation week is a magical time for the student community, because then the planning, waiting and working for almost nine months will be rewarded for all. New students will finally be able to start their studies, which have been preceded by stressing through the entrance exams. The tutors, in turn, have gone through the application and selection process, training, and planned the autumn activities. In addition, the university and others have prepared training and instructional materials for both freshmen and tutors throughout the year.
It's amazing that every year more than a thousand people apply for tutoring out of sheer desire to help and guide, to be involved as part of the community, to maintain and develop a student culture, and to meet new people. This decades-long tradition is, in my view, the cornerstone of the Tampere University community – thanks to all current and former tutors – we can all be proud of what we are part of and what we have built together.
The arrival and tutoring of new students is a huge entity in our university community. Freshmen start their studies in more than forty degree programs, as well as in countless different master's programs, some of which are in Finnish and some of which are in English. Of course, each degree program and subject association has its own, slightly different traditions and practices. Tutoring is active of course on all three campuses in Tampere, but new students also come to our university to the campuses of Pori and Eastern Finland.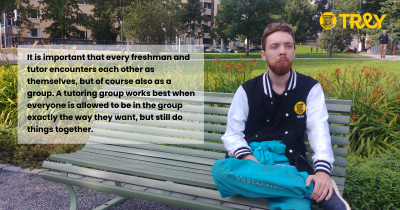 It's not uncommon to hear the argument that it's hard to make new friends in adulthood. However, starting new studies can be a great way to find new friends, as there are so many people in the same situation. However, does this unique opportunity create much pressure to meet new people in a new environment? What if, despite this opportunity, I can't find new friends, a group of friends, or a community to belong to, even though I would like to? Creating new friendships and a sense of belonging is such a strong need that many are willing to work for it.
I have been wondering what tutoring is at its core. Is tutoring guidance and counseling? Telling about what our campuses are like, how Sisu works or what you can find in the city of Tampere? Or is tutoring organizing events, communicating, or informing about events? These are all of course important things that are part of tutoring in one way or another, but I think meeting people is at the very heart of tutoring.
Sometimes it's challenging to organize activities when we all come from slightly different backgrounds and when we all have different hopes, goals, and dreams. Each of us has our strengths and weaknesses. Some come directly from high school, some come from a vocational school, and some may already have a previous university degree. Others have lived all their lives in Tampere, and they have strong support networks here, while others have relatives and friends on the other side of Finland, or the world, while some may not have good support networks at all. Some want to experience the traditional student life, while some are not interested in this at all, but the ​​interest may be, for example, other student culture, research and working life. Some of us may get nervous while meeting new people, while for others event a bungee jumping won't raise their heart rate.
For these reasons mentioned above, it is hugely important that every freshman and tutor encounters each other and will be encountered as themselves, but of course also as a group. A tutoring group works best when everyone is allowed to be in the group exactly the way they want, but still do things together. It is also important in the group that everyone supports, helps and encourages each other. In the early days, of course, it is the tutors who act as active guides, but sometimes, of course, the tutors may also need support – and these are the moments when a group of friends can emerge from a tutoring group.
Happy start of semester everybody!