This week in cooperation with the university we raised Pride flags in the hall on all three Tampere University campuses to show that we are on the side of equality and non-discrimination. We recognize sexual and gender minorities' right to treated equally and we work tirelessly to promote equality in different levels of our community and society.
This month we are not just celebrating. We want to remind everyone that even today in Finland, many people belonging to sexual and gender minorities experience discrimination, the threat of violence, anxiety, alienation and feelings of insecurity.
From childhood on, the surrounding society tells us a heteronormative story where the default is a cisgender hetero couple and their love.This is not everyone's story though, and feeling not included takes a toll on ones mental health.
This is why the story needs to be rewritten. The story must also include the right to happiness and love as a gay, lesbian, bisexual, asexual, transgender, intersex, or other representative of a sexual or gender minority.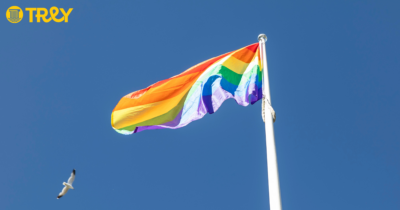 Everyone everywhere in the world should have the right to love and be loved regardless of their gender and sexual orientation. Everyone should also have the opportunity to see different representations of the experiences and lives of different minorities in the surrounding society. This gives everyone the opportunity to feel truly part of the society and communities in which they live.
Let us all work together here in Tampere University to make sure that everyone feels part of our community, regardless of their sexual orientation or gender. Let all the colors of the rainbow be seen and heard!
– Aatu
TREY's board member responsible for social policy