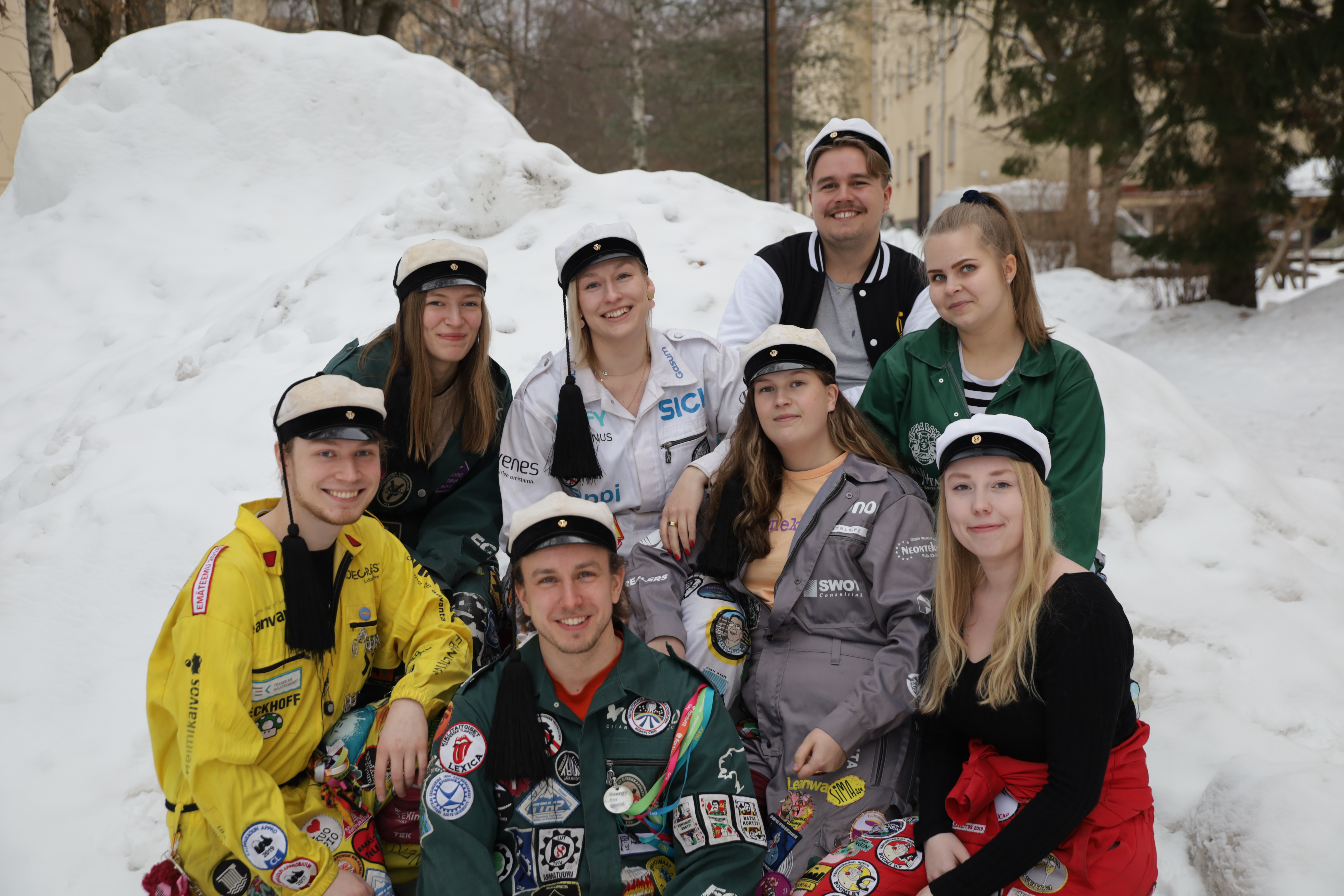 Only 28 more days until the Biggest Wappu in Finland! Wappu is being arranged by the most wonderful Wappu team. The arrangements are well underway, and the aim is to organise the greatest Wappu of all time! The Wappu team consists of eight spirited organisers, and next we will get to learn a little bit more about them. The Wappu team includes four representatives of TREY and four representatives of the Teekkari Union of Tampere. The Wappu directors are Iiro Parhankangas, Reetamari Pesonen and Elina Salovuori. The Wappu secretaries are Eetu Hartikainen, Tea Mattila and Elli Ruokonen. As the cherry on top, the team also includes TREY's events organiser Paavo Keski-Orvola and the master of culture at the Teekkari Union of Tampere, Josefiina Aitalaakso. The stage is yours!
"Hi! I am Iiro, a fourth-year Energy Technology student. I am super happy to be working on Wappu, because I wanted to give back to this community at least some of all the lovely things I have received myself. I encourage all of you to go and experience the spirit of Wappu with an open mind. It is the best thing you can do with your overalls on!"
"Hi! My name is Reetamari, but I am better known by my nickname Reettis. I am a second-year member of Iltakoulu. I applied to be a Wappu director, because I love organising events and living the student life. I am more than excited about the coming spring and the continuation of life in proximity. Let's make this a Wappu for all of us!"
"Hi! I am Elina, a fifth-year member of Lexica. I am super excited to be involved in the organisation of a lovely Wappu for everyone! I wanted everyone to have memories of student events that would be as fantastic as mine, and that is why I wanted to become a Wappu director. My longing to get back into events and the student culture has been deep, and I cannot wait to gain more amazing experiences at our events again. Wappu is the best time for a human being!"
"Hi! I am Paavo Keski-Orvola, a fourth-year Computer Sciences student. This year I am working as a member of the Executive Board of TREY and in charge of events and member services. I am feeling really good about putting Wappu together. We have an unbelievably nice team, and we are making wonderful progress. We have got this covered, and it is a hardcover. Wappu is coming."
"Hello! My name is Jossu, and I am working as the master of culture at the Teekkari Union of Tampere this year. I have nearly four years of studies behind me: the first three in Energy Technology, and since last autumn I have been studying Information and Knowledge Management. Wappu is drawing near, and I have quite a lot on my plate already. Nevertheless, I am extremely happy to be involved! Obviously, our goal is that this year Wappu will be bigger and more visible than ever before!"
"Hello! My name is Tea, and I am a fourth-year Industrial Engineering student. Being involved in the organisation of the Biggest Wappu in Finland for the whole community of university students is the absolute best. My own experiences of Wappu and the student culture in general have given me more than I could have ever wished for. That is why I encourage everyone else to get involved in the hustle and bustle of Wappu with an open mind, both as a participant and an organiser. See you at Wappu!"
"Hi! My name is Elli, and I am in my fifth year of Information and Knowledge Management studies. Wappu is my favorite time of the semester, and it is fantastic to be involved in making it happen. It has already been cool to work with this group of people, and I cannot wait to see what else is coming up. I wish Wappu was here already, and I hope to see you at the events!"
"Hi! I am Eetu, a fourth-year Automation Technology student. Wappu is the best time for a human being, and ever since I was a fresher, I knew one day I would have to get involved in organising it. Our team is absolutely awesome, and Wappu will certainly be that way as well (i.e. the biggest relatively controlled mayhem in a couple of years). I hope all of you will come along and perform, or at least enjoy Wappu. See you at the events!"
Thank you for your fantastic introductions, Wappu team! We wish you a warm welcome and eagerly wait to see what kind of Wappu activities you come up with! Wappu is being celebrated 13 April–1 May and will include events by TREY and student associations alike. Follow the communication channels of TREY and Suomen Suurin Wappu to stay on top of things! See you at Wappu!