Two new members were appointed to the Board of Tampere University at the meeting of the Academic Board on Tuesday 10.12. The University's Board has seven members and its actors are required to have an excellent view on the University's matters.  Doctor of Science Anne Jalkala and Professor of Gender Studies Johanna Kantola, were elected as members of the Board.
"We are delighted that the gender equality in the Tampere University has now been taken seriously! The decision shows that our university are creating a stronger community, where different perspectives emerge. We congratulate the elected and look forward the good cooperation!" says Paula Sajaniemi, the Chair of the Student Union Executive Board.
The Appointment Committee made the proposal of the members of the University Board to the Academic Board on the proposals from the founders and the university community. One of the selection places came from the founders and the other from university community's presentations. TREYs proposals to the Board of the Tampere University were not appointed.
Ilkka Herlin (Chair), Kimmo Kontula, Jari Kinaret, Pirkko-Liisa Raudaskoski and Iiris Suomela continue as members of the Board.
Read more about the decision on University's web page and intra.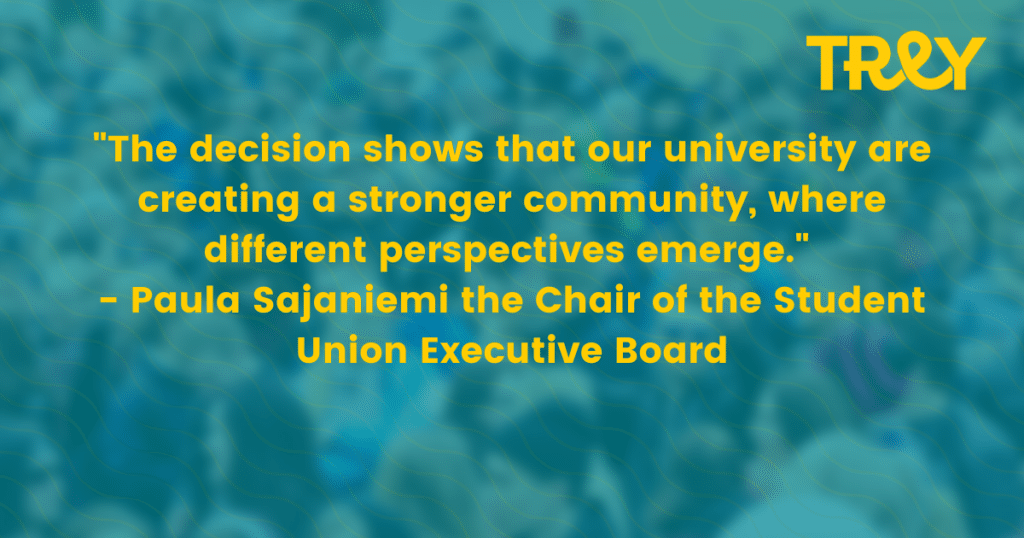 What board?
The Board of Tampere University includes seven members. The same members make up Tampere University Foundation, setting the guidelines for university's work as their main task. The board decides on the strategy, regulations, structures and policies of the university as well as appoints the president, provost as well as vice presidents. In addition it exercises considerable financial power by deciding on the action and economic plans as well as approves the financial statement.
Who may get elected?
Working as a board member requires a wide expertise on the academia. The eligibility criteria for board members are set in the Universities Act and the Charter of Tampere University Foundation. In addition the Academic Board has complemented the criteria. According to the Universities Act, the Board of a foundation-based university 'shall comprehensively represent the highest national and international expertise in the sciences and arts in the field of operation of the university and in societal and business life'. The final decision on Board members is made by the committee that the Academic Board establishes.