Highway 9, which tirelessly carries peoples and goods between the towns of Tampere and Turku, was drawn on the map in the final years of the Swinging and Spacetraveling Sixties. Apart from Finland's largest sled, the Kylmäkoski prison complex and the neon-colored behemoth that is the Ideapark mall, the roadside offers not much more than oat fields and fencing to keep wildlife off the road. Most of the year, traveling on highway 9 is two ashen grey hours in a constant stream of cars. The patterns on the bus seat remind of skiing gear from the Eighties.
For the past two years, I have regularly spent time in those multi-colored seats, traveling between my two hometowns. Even though local newspapers tend to pit Tampere and Turku against each other (as is tradition), in many ways they are very much alike. Indeed, big multidisciplinary universities and megalomanic constructions projects exist on both sides of the artificial argument. Both also suffer from an inferiority complex towards Helsinki, even though it is never warranted.
Getting a steady job, dabbling in real estate and having a kid have naturally aided in feeling more at home in Tampere. Those tiny hockey uniforms people attach to their car windows and the surprisingly jolly customer service still feel alien, though. Arriving to the big intersection in Viinikka has begun feeling as familiar as seeing the tower of Turku Cathedral rising over the town at the other end of the highway.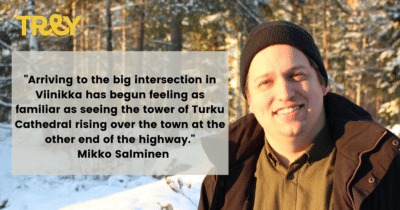 My job has me navigating the student community in Tampere in various ways. This has proven to be extremely interesting, eye-opening and also challenging. Each university is its own ecosystem with its own traditions, specializations and quirks. Putting two of these ecosystems together is a mammoth task but one all the people I have talked to have undertaken with tremendous interest and attitude. Admittedly, me branding myself as the slow humanities graduate from Turku has allowed me to ask more questions and to see things from an outside perspective. Still, I am grateful to all tutoring officers and TREY's personnel who have had to repeatedly explain a myriad of Tampere student culture -related matters to me in detail.
Having two hometowns is nothing special in the student community. Many of you are originally from somewhere else, doing your studies and living the good life here in Tampere and possibly heading out to somewhere else afterwards. I moved here while still finishing my studies in the University of Turku and felt homesick and questioned just about every life choice I had made while the cursor on my thesis document blinked without relenting. There is no motivational life lesson here, but I noticed that we humans tend to acclimate to new situations quite well. With time, and a couple of personal developments such as graduation, Tampere began to feel like a good place to be. If you struggle as a new student here, remember that it is natural and a thing that passes once you start exploring the city and the student community here. Join a club, go out to see bands play live, utilize the wealth of knowledge available to you at the university. Soon you will be at home here.
The static buzz of an engine and the bus stops whizzing past will still be fixtures in my life in the future, but thankfully the bus service between these two great university towns is quite frequent. Calling them both home feels natural. I just hope they would introduce a frequent traveller discount program. I would save a fortune.