My years of study at Tampere University have been unforgettable. In addition to gaining academic education, I have gotten to know new people, developed my teamwork and interaction skills, and learned time management and prioritization. Student association activities, in which I have participated along my studies, have played a significant role in improving my personal skills. For example, I have been an editor-in-chief of a pamphlet, organized several major events and led an advocacy campaign. These are just a few examples of all the unique opportunities that student activities offer.
The Degree certificate reveals only a small part of all the skills that an active participant in student activities have gained during years of studying. Although it is possible to earn a few credits for extra-curricular activities, it is largely the individual's own responsibility to prove the competence acquired in student activities. The Finnish Education Evaluation Centre (FINEEC) has highlighted the need to strengthen students' ability to describe their own skills, especially in the fields of humanities and social sciences. Students need to be given more support in describing their own competence, for example through study and career guidance.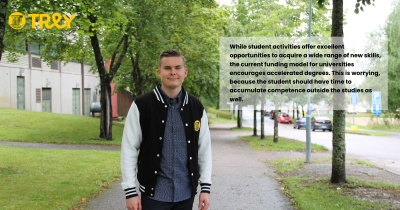 While student activities offer excellent opportunities to acquire a wide range of new skills, the current funding model for universities encourages accelerated degrees. This is worrying, because the student should have time to accumulate competence outside the studies as well. If students are forced to study like through a production line, they also don't have time for experimenting with interesting minor subjects. Instead of trying to get students out of the university as quickly as possible, the key would be to offer all students a genuine opportunity to develop their own skills as many ways as possible.
Tuomas Karvonen
This blog post is part of the 'Reveal your skills' weeks of the Finnish Innovation Fund Sitra. The goal is to inspire and encourage everyone to recognize their skills and make them more visible.