TREY, like many others, is taking part in the Ministry of Justice and non-discrimination ombudsman's campaign I am Anti-racist. The aim of the campaign is to encourage people to take action in their own daily lives and to encourage them to consider the effects of racism more broadly in society.
Multiculturalism and racism have been a constant feature of the societal debate in the 2010s. The political debate has been very heated in places, and populist material has also been heavily mixed with it. Because politics tends to exacerbate things, tell stories, and collect those famous loose points, it's sometimes a good idea to stop to explore things more deeply, as well.
There has been a lot of extensive, analytical and honest discussion in the field of education about the opportunities and challenges that multiculturalism includes. And I mean the kind of discussions that don't evoke sensational headlines or rage in social media.
As a young person from a multicultural suburb in Helsinki, I have attended kindergarten and school with people from many different backgrounds. Although I lived in a very multicultural environment, diversity in the faculty shone through in its absence. It is known that people with foreign background are less likely to end up on the path to higher education, and even less often as teachers (source: Karvi). The differences in learning between immigrants and native Finns are also the largest in OECD countries according to the Pisa tests (source: Yle).
Learning differences can be attributed to both individual and societal factors. Individual factors may include poor language skills, low socio-economic background, traumatic stress (especially in refugee children), neuro-atypicality, or other factors that impede a student's learning. Societal factors, on the other hand, may include insufficient support for learning, lack of teaching one's mother tongue (a prerequisite for learning a foreign language), under-resourced S2 teaching, lack of cultural sensitivity, unequal treatment by teachers or outright racism.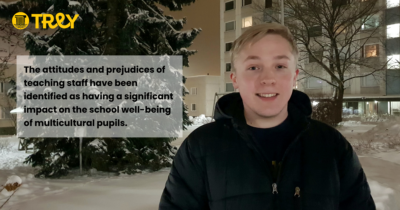 The attitudes and prejudices of teaching staff have been identified as having a significant impact on the perceived school well-being of multicultural pupils. Several students with foreign backgrounds have reported experiencing unequal treatment compared to native Finn students. I myself have personally witnessed, both in my own school days and in the field today, that teaching staff talk about multicultural students, especially in problem situations with a certain tone, where the student's multicultural background is seen as the root cause of the problems.
Fortunately, the field of education has awakened and set out to actively promote anti-racism. Anti-racist education and pedagogy seeks to address racist attitudes and prejudices that are harmful to the well-being of multicultural children and young people in kindergartens and schools. For example, in their statement of 4 June 2020, Teacher Student Union of Finland called for anti-racism to be added to curriculum (source: SOOL). Since then for example Helsinki has announced that it will organize anti-racism training for its education sector staff (source: City of Helsinki).
Anti-racism is not just about education. It is deeds, identifying one's own internal processes and actively working on them. In the context of education, anti-racism raises awareness about the individual and societal structures that make it more difficult for multicultural students to access higher education. In order to truly achieve educational equality, these structures must be dismantled from the very beginning of the educational path.
Aatu Korhonen, TREY's board member responsible for Social Affairs