December 2019. TREY board was wrapping up their year with mixed feelings – it was sad to end the year and duties, but the whole board was more or less tired and in a desperate need of christmas holiday.
But I wasn't. I had been elected to work as a TREY chair 2020. While others were in the middle of some sort of a stepping down process, I had my mind set to the future. I was orientating to become a chair and getting ready to take lead with my new board.
But now I'm reaching the point where the rest of my 2019 board was. The new chair 2021 has been elected and I'm training her. It's time for me to start letting go and get ready to return my laptop. I'm not gonna lie, I'm more than happy to start my holiday and get some rest.
The first ever TREY council was elected in autumn 2018, and I was one of them. My period there was short, since I got elected to work at the first TREY board and then this year, the Chair. These years gave me an opportunity to leave my handprint here and now it is time to leave the stage to some fresher and more energetic faces. It feels like this year started yesterday and lasted a decade, but at least we made TREY the best Student Union in Finland on our way.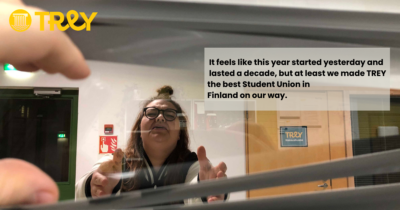 The year 2020 may not have been the best one for you, but it was still amazing for me. I've had amazing colleagues and the most outstanding General Secretary, with whom we have skyrocketed over my expectations for the year. We've met the President, answered for every Finnish media I can imagine, drafted a bunch of new steering documents, organized a remote council elections and transferred our organization to work fully remote. Not just any year to be the Chair.
The year has brought the Student union, associations and students closely together. We've seen amazing ways to organize safe remote events to support the sense of belonging and community. We've helped associations and students through all sorts of difficulties. We've promoted students' interests relentlessly when covid was trying to shut down everything. It warms my heart to see people trust us at TREY.
This year we have argued about student bus fares with Nysse, created a whole new environment programme and setted our carbon neutrality goals. We've promoted student meal subsidies up and thanks to that, from January the prices will come down. We've lobbied for better opening hours for campuses, started a student media, solved hundreds of cases people have brought to us, launched a new series of "Ajankohtainen TREYkkönen", trained a thousand tutors and the list goes on.
So I want to thank you, every student representative, council member, association, student and all the rest who keep making this community better. I personally want to thank the whole personnel at TREY – without you we wouldn't be able to have so continuous and persistent advocacy.
For me, this is the end of my TREY-era, at least for now.
Annika