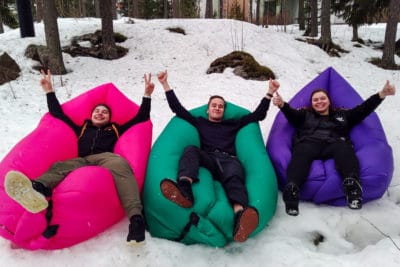 The first of May, vappu, is a big day for us students and TREY's Wappu is naturally even bigger: we start the celebrations already on the 15th of April! The biggest Wappu in Tampere is organized by Wappu directors, who have been chosen. Meet our Wappu directors Nico Ylirönni, Anton Kauppila and Liisa Äijälä:
"I'm Nico Ylirönni 4th year student of Information and Knowledge Management from Hervanta. It's almost unbelievable, and my feeling are flying high. I started to become nervous about this election, and I'm super happy that I get to be a part of Wappu team. I have high expectations of the team and I hope that we succeed in building a pleasant Wappu for every student in Tampere. Don't panic, Wappu is coming, and it will be bigger than ever!"
"Hello! My name is Anton Kauppila, 23-year-old student of administrative sciences from Tampere. Wappu is the best time of student life and now it's time to start building the best Wappu what Tampere has ever experienced. My expectations of the upcoming spring are very high and I'm sure that we are going to share great moments together with all the students in this city. Stay tuned and participate actively in all events so you won't miss anything!"
"Hi everyone! My name is Liisa Äijälä and it's my third year studying to be a classteacher. I've been quite active in the organisation field, not only in my own student organisation OKA ry but also in the student union. I'm optimistic about Wappu and I hope you people are also! It's our first Wappu in Tampere together with all campuses. I'm pretty stoked to have this honor to organise all the cool stuff with our awesome team!"
We welcome our new Wappu directors! The Wappu team includes also Eeva Ylimäki, TREY board member in charge of events and community. Wappu weeks take place from 15th of April to 1st of May and include events organized by TREY as well as student associations. The celebrations offer something for everyone and Wappu will be seen and heard in all university campuses and around town. Stay tuned!