Being a tutor gives you a wide set of new skills, unforgettable experiences, and new relationships to last for a lifetime. You, a student, probably already have many of the skills needed for tutoring. Above all, tutoring is about being there for the new students as they enter a new phase in their lives, which can be as scary as it is exciting. New students might be worried about lots of things: Will I make new friends? Do I have the skills needed for academic studies? Will I feel at home in a new place? Many will be moving away from home for the first time, some even to a completely new country for exchange or degree studies. A tutor is someone who is more experienced, but still an equal. Tutors make it easier for new students to get accustomed to changes and new situations by sharing their own experiences and best tips. Tutors are important to all sides involved: new students, the university, student union and associations.
Next, I will tell you more about some of the things there are to gain from tutoring.
Group leading gives you a wide set of working life skills
Tutoring can teach you many practical skills that will be useful in working life. Being in charge of a group strengthens your skills in communication, interaction and solving unexpected situations. Secondly, it teaches you teamwork with other tutors and tutoring organisers, and you learn how to plan and execute events and activities, as well as develop them and report on them. You will meet lots of different people on the way and, through that, learn a lot about group dynamics. Differences can be strengths or challenges, for both individuals and groups. Sometimes tutors can get practical experience on how to pay attention to accessibility and to ensure that everyone feels safe when participating in tutoring activities. At the same time, it is possible to reflect on your own actions as a member of a group: what are my strengths? Is there something I still need to work on in the future?
Tutors create community spirit and bring people together
Tutoring gives you the chance to meet all kinds of people from diverse backgrounds. Some of the new students come to university straight after completing secondary education, while others have more work or study experience behind them. Students' academic skills and self-direction can be at different levels depending on their life experience. For some, going to university makes it possible to start independent life and to live on their own for the first time. For others, it might just mean updating their set of skills as a specialist. In addition, international students bring with them the opportunity to get to know different cultures, customs, and cuisine and to learn new languages.
The main language of international tutoring is English. There's no need to worry about your level of language skills – every-day conversational level is enough. International tutors are also not expected to have any special knowledge on immigration issues, as the university and other organisations have specialists for that. The most important tasks for international tutors are just to be present, and to offer the new students opportunities to get to know the university community and the Finnish way of life. Whether it's about local or international students, the beginning of studies is an opportunity for building new relationships, where tutors can play their part in creating the community and bringing people together.
International tutoring is also a great chance to gain international experience locally, to expand your horizons, strengthen your language skills and make new friends from all around the world.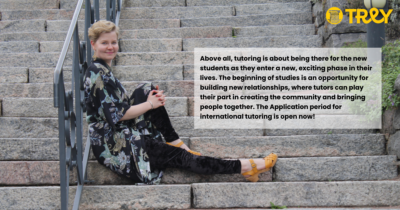 Special experiences and every-day encounters
Tutoring is also about memorable experiences. TREY organises a tutors' night annually in August for new tutors to network, have fun and orientate into tutoring before the arrival of new students. Many associations organise orientation trips or events to their tutors, such as sauna evenings, cabin trips or other activities. Tutors themselves get to plan and organise parties, events, picnics, orienteering, culture events and other activities in student life – each to their own strengths and wishes.
At the same time, new friendships are built at lunch tables, on coffee breaks and through spontaneous encounters at campuses. Stories and memories gained from tutoring will stay with you for a long time – in the best-case scenario, these new relationships will turn into friendships for life.
Application period for international tutoring is open now!
Every year, we look for active and motivated students to become tutors for our new international degree and exchange students. The next application period for international tutors is from 11 to 26 October 2021. This time, we are looking for tutors for the exchange students and the few degree students starting their studies in January.
Fill the application form to be an international tutor. We are expecting to see a group of motivated students who want to be a part of building a warm and safe community to new students! More information on tutoring, credits, and the application process can be found on our website, or you can contact Miska or Annina by email: tuutorointi@trey.fi.