We challenge students in Tampere to speak up about meal subsidy!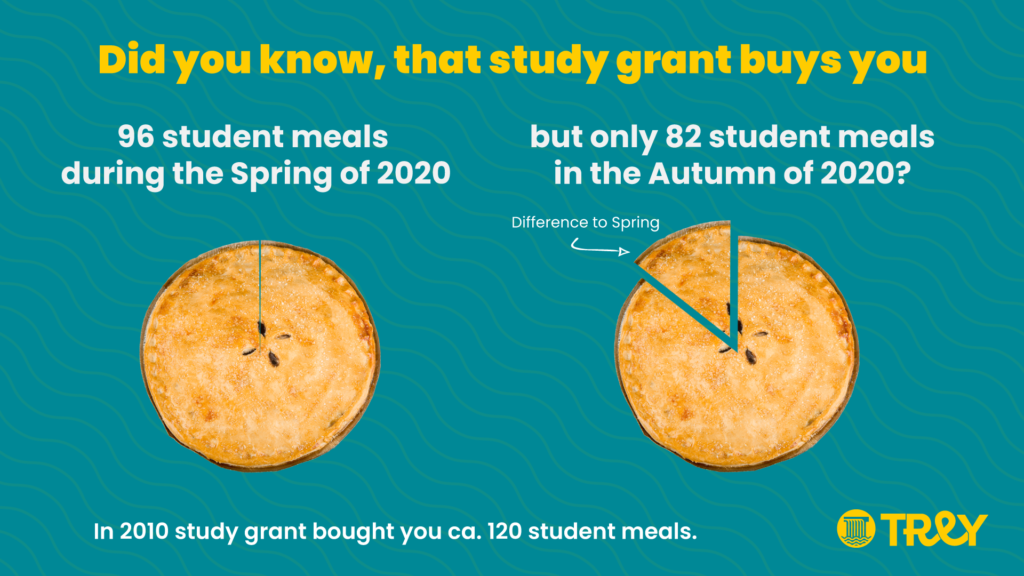 A proposal has been made to increase the cost of student lunches by 17 per cent. There is now a risk that the students will end up paying for this increase. We would like to challenge everyone to show us what the inexpensive student lunch means to you!
What is the meal subsidy and what do the proposed changes mean?
Kela, the Social Insurance Institution of Finland, supports student meals by 1.94 euros per meal. The meals have a maximum price that ensures that the meals are reasonably priced. The maximum price for a regular student meal is now 2.60 euros, and the planned increase would raise the price to 3.06 euros. No increase, however, is planned for Kela's meal subsidy. This poses the risk that students will end up paying for the increase.
The maximum price for a student meal has remained the same for eight years, but during that time, the costs for one meal have increased by 11 per cent. When the maximum price is raised, the meals can become tastier and more nutritious. We think that it's important that the meal subsidy is raised proportionally to the price of the meal, so that individual students don't have to pay for it.
What can you do?
The decisions are not set in stone, and we students can still influence them. The government discussion on spending limits takes place next week, and now is an opportune time to show them what students think. The government discussion will lead to decisions about the framework of next year's budget, and now we students will ensure that the amount of a meal subsidy will be a topic of discussion!
That is why we challenge students to show on social media what inexpensive student meals mean to us students. We encourage associations and individual students to share their thoughts about the meaning of student meals for well-being, health and social relations in different social media channels with the hashtags #mealsubsidy and #studentmeals. You can publish the post in your chosen social media channel (e.g. Instagram, Twitter, Facebook), and it can be a picture, a video or a text.
We challenge you all to join in on influencing this decision and to share the challenge!