As the Student Union's Specialist in Communications and Advocacy, the themes I work with regarding our action plan are related to communications and brand, as well as handling the action plan process. Despite this, one of my favourites from this year's action plan is the project A truly international university community. Bilingual communications and its improvement are important matters for me personally. Our university and student union still have work to be done regarding how we handle multilingualism in our university community. Commitment to simultaneous bilingual communications is a value-based decision and I consider it one of the most important equality works in my work field. Our student community is diverse, and students have the right to timely and understandable information whether they speak Finnish or English.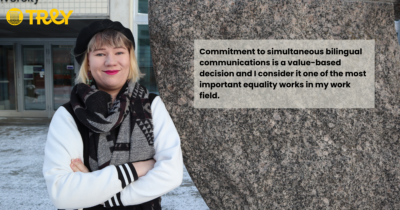 I take pride in TREY's bilingual communications, and it wouldn't be possible without putting work into it and wanting to produce communications that are equal form everyone. Every year two translator interns put valuable work effort into making quality translations for our website, social media posts and documents and making sure that they are published timely with the Finnish ones. In communications introductions, I make sure to emphasize that we do not publish information only in Finnish and it is important to wait for a translation before communicating. When we don't have a translator in the house, we translate ourselves or use freelancers, but I hold on to the principle that the translation must be done. One of the most important lessons I've learnt in my time here has been regarding one of my blog posts during autumn 2019. The blog post was only published in Finnish due to us not having a translator at the moment and me being busy, and the feedback was that I should have known better as a specialist in communications and made time to translate it. They were right, and I translated it right away. Since then, I have carried with me a principle: being busy is not an excuse to exclude one group of students from accessible communications.
One of our most important advocacy goals of this year is to improve the status of bilingualism and international students in our University and Student Union. Our action plan sets goals for us: to improve the opportunities for students who use English as a communication language to participate in the University's decision making and the activies of the Student Union. We will examine the preparedness of our office regarding bilingualism and take appropriate actions to advance equal participation opportunities. We will create our own language principles and encourage the University to invest in translator resources and timely bilingual communications. We have work to be done to reach a more equal multilingual university community, and I hope that by the end of the year, I can be happy with the advocacy work we have done to further bilingual communications in the community.