As I arrived on the Hervanta Campus for work on Monday, I was greeted by a long-awaited sight. Life, overalls, new students and an excited atmosphere were permeating the campus. I went to Newton, one of the student restaurants, for lunch, and the queue went all the way through the door of the building. Lucky for me, I know the cheat code for the lunch queue in this restaurant (it's using the vegetarian line), and I was able to sneak past the biggest masses of hungry freshers and tutors.
Being a fifth-year student, it has been a while since my fresher year. In the beginning of Orientation Week, though, I always find myself stopping to remember what life looked like as a fresher – a new city, new studies, a higher degree of education. Each fresher is different, but I'd bet all of them experience some kind of a change in their lives in the beginning of their new studies.
Will I find friends? Will I figure out what's my thing? Am I on the right field? Will I like my apartment? Is this place ever gonna feel like home?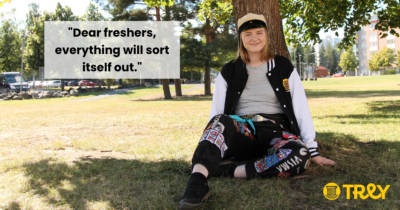 Dear freshers, everything will sort itself out. I won't say that everything is going to go exactly as you wanted it to, but you'll find your path. Sooner or later. And if you feel like it's definitely not going to be sooner, I have a few tips for you. (Older students, feel free to make use of these tips, too.)
– If you don't seem to find friends in your own tutoring group, get to know other people in your field. Get to know people from outside your field, as well: for example, the Newcomers' Orienteering on 13 September is a great chance to meet freshers from the whole university.
– If you feel like you haven't really found your thing or your people, I strongly encourage you to check out the Hobby and Sports Fair on 27 and 28 September. That's where you'll find all different kinds of associations, which we have about 160 of working under TREY. Hobby associations are particularly good for meeting people interested in the same things as you.
– If you aren't vibing with your field, switch to a new one as soon as you're able. If you're struggling, please seek support. Many people at the university are here specifically to help you, you just have to reach out.
Let's help each other out, especially during these first weeks. Have a great start of semester, everyone, and welcome once more, freshers! <3
The writer is Anniina Honkasaari, an Executive Board member at TREY and a former fresher.
Link to seek support at the university: https://intra.tuni.fi/en/studying/planning-studies-and-study-guidance/faq-about-guidance-and-well-being